Why is it so difficult to manage bill of materials (BOMs)? Here are three of the most common bill of materials challenges – and how to overcome them.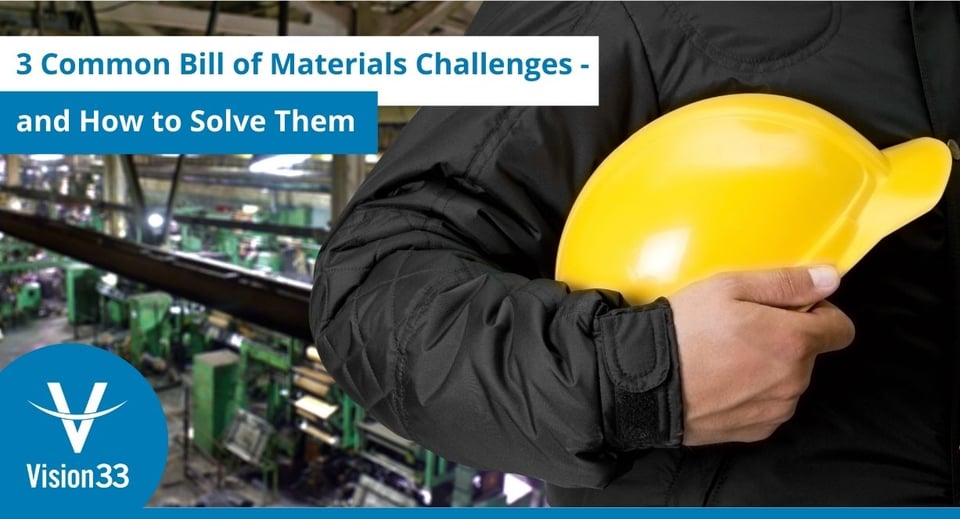 The manufacturing industry has evolved over the last several decades. Equipment has improved, processes have become more efficient, and enterprise technology has enabled automation. However, one thing hasn't changed: a bill of materials (BOM) is the heart of manufacturing businesses.
This comprehensive list of raw materials, subassemblies, intermediate assemblies, sub-components, and the associated quantities needed to manufacture a product must be carefully managed. Often, that's easier said than done.
Why is it so difficult to manage BOMs? Here are three of the most common challenges – and how to overcome them.
Inaccuracy
Multiple departments use BOMs, including production, purchasing, sales, and after-sales services. If your BOMs aren't properly managed, each department ends up with different data. Poorly managed BOMs can also lead to a higher cost of goods sold or revenue loss from inaccurate part information, excess or inadequate inventory, quality issues, longer time to market, and insufficient collaboration between suppliers, vendors, and contract manufacturers.
Product Variations
Many manufacturers specialize in a specific product with standard versions but can also provide customization. This requires a new BOM for every customized feature. And it's vital to ensure the right components make it to production and track their location, even after the sale. Without streamlined processes, manual data entry and creating a new BOM for every product variation becomes too time-consuming and keeps you from focusing on growing your business.
Inadequate Technology
Outdated or inadequate technology, small business accounting applications, and spreadsheets hinder BOM management. Disconnected systems can't provide real-time information about inventory levels, production lead times, product costs, and other critical data. Without the right technology, you can't quote jobs accurately, ensure delivery dates, or seize new opportunities.
Solving Bill of Materials Challenges With Digital Transformation
Undergoing a digital transformation will make the BOM management process much easier. And while it sounds overwhelming, digital transformation is simply making your business run better by creating new – or modifying existing – processes using technology.
Digital transformation occurs one small step at a time. Start by identifying your business's biggest pain point and finding technology that can simplify, streamline, automate, or integrate your processes to relieve it. Then move on to the next pain point.
Start Here
Digital transformation doesn't have to be complicated, expensive, or disruptive to your operations. To learn more about it and how it can overcome common BOM challenges, visit the resource page below for blogs, customer success videos, on-demand webinars and demos, eBooks, and more.
Related Blog Posts
3 Common Order Entry to Shipment Challenges - And How to Solve Them
3 Common EDI Challenges - And How to Solve Them
Top 5 Banking Integration Challenges - And How to Solve Them
3 Common Reporting Automation Challenges - And How to Solve Them
3 Common Invoice to Purchase Process Challenges - And How to Solve Them
Top 5 Quoting and Sales Order Management Challenges - And How to Solve Them
Top 5 Inventory Fulfillment Challenges - And How to Solve Them
3 Common eCommerce Challenges - And How to Solve Them
Top 5 Finance and Accounting Challenges - And How to Solve Them