Tracy Ostrander, Manager of Inside Sales, offers tips for shifting your sales strategy for more relevant conversations during the COVID-19 pandemic.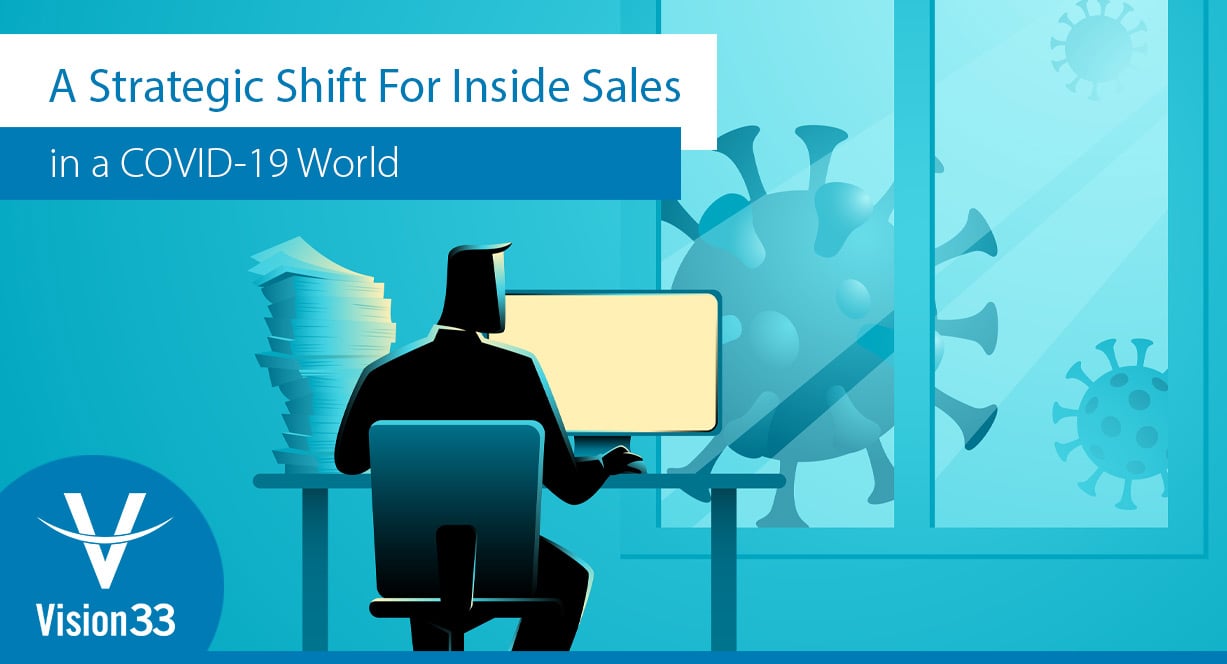 Tracy Ostrander is the Inside Sales Manager at Vision33. Her team is responsible for opening doors to opportunities for our Sales Consultants and laying the foundation for meaningful conversations about a prospective client's needs. Tracy was invited to be a guest on our blog and asked to share how her team has seen the impacts and adapted their strategy over the last few months.
---
At the end of February 2020, we learned about a new virus sweeping through China. The situation looked dire, and my heart went out to those affected. However, I, like many, assumed it wouldn't affect my way of life, my or my family's health, or my work; it was on the other side of the world, after all.
Then it was no longer on the other side of the world. Local governments and health authorities started planning for an epidemic – canceling flights, closing borders, and recommending social distancing. Then, the World Health Organization declared a global pandemic on March 11, 2020. Offices and retail stores closed, governors announced stay-at-home orders, and life changed. The global economic effect was almost impossible to wrap your head around.
Vision33, values the safety of its employees and customers. We implemented a work-from-home policy, closed all 25 offices, and canceled travel. Our priority was to provide world-class service and support, just now in a virtual model. Since Vision33 invests heavily in technology, this was a small hurdle for us.
We also had sales hurdles: Our lead sources had almost dried up, prospecting calls went unanswered, our message wasn't resonating, and everything was changing so fast we couldn't keep up. Our marketing team worked at warp speed to create relevant content to support our sales teams and customers. We had fact sheets, tips and tricks, podcasts, and webinars within a few weeks.
Now we needed a strategy to share it. I brainstormed with our VP of global sales and marketing and marketing director, read articles, and listened to my team's calls to form a plan.
One evening as I was working of the details of the plan, my mobile rang. When I answered, it was a young and inexperienced sales development rep. Somehow, I ended up coaching him because his pitch was tone-deaf; he was following a script he couldn't deviate from. I asked if he knew where he called. He didn't, so I told him to google my area code; he discovered I was in Toronto. I asked if he knew what time it was in Toronto. I heard him type, then silence.
I offered some tips:
• Always know where you're calling and what time it is there.

• During a global crisis, only call during business hours. Prospects have families who need their undivided attention.

• If you can't discuss your product or service without a script, you're not ready to make phone calls. Get training from your manager on having competent conversations.
This interaction got me thinking.
• What do prospective customers want to talk about right now?

• Which communication channels are working the best?

• How can I ensure my team isn't tone-deaf to the current crisis?
I started the next week with a team meeting. We discussed the conversations we should be having. We reviewed which industries were hit the hardest and the geography of major outbreaks. We talked about the fear and agreed that empathy and building rapport and trust come first. We're genuinely interested in how our prospects are coping. We want to offer relevant, helpful content and reach out more often.
We also talked about how we're coping. How are our families? What are we worried about? We shared ideas, jokes, and things we see on the news and social media. And we continue to do this.
We've learned things that surprised us. Some prospective customers have more time to talk and read emails. With travel canceled, decision-makers are reflecting – how could they have been more prepared for a disaster? They now know how fragile their supply chain is, and how not investing in cloud-based technology has made it difficult for their teams to work remotely. But while right now may not be the ideal time to invest in ERP, it's a perfect time to learn and plan. To research solutions that will make running daily operations seamless through any crisis. To gain a better handle on company finances and the data and reports needed to make better strategic business decisions.
We're still focused on delivering quality leads to our outside sales teams, as are other leaders – because while the volume of leads has decreased, the quality and commitment of leads have increased significantly. Since ERP traditionally has a sales cycle of three to nine months (or longer), these companies will be well educated and prepared when the economy improves. Time spent wisely now will help companies future-proof their business.
Ultimately, management and marketing must support sales teams if they're to succeed. Leading with empathy and genuine interest in the well-being of prospects is critical for building lasting relationships. While these relationships may not result in a sale today, they will leave a lasting positive impression that can be influential tomorrow. Constant attention to the details of your prospects' responses, ever-evolving messaging, and remaining nimble will see businesses through this incredibly uncertain and sometimes scary crisis.
Vision33 is here to support you and help you support your sales teams – global pandemic or not. But now is the perfect time for new business strategies and better communication with customers. Call us or drop us an email so we can work together to get you on track for when the economy improves.