A SAP food and beverage solution built on SAP Business One can help overcome your company's need to clearly label products to denote known allergens.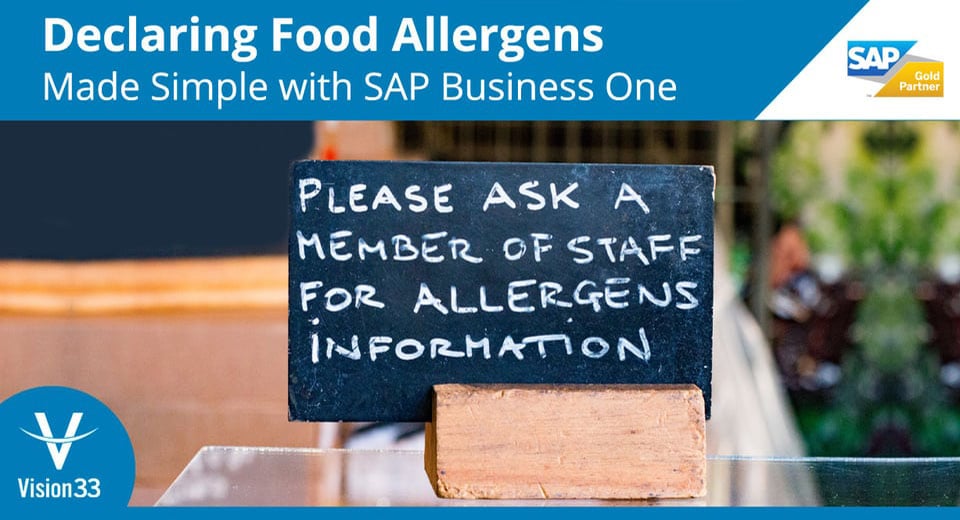 Thirty-two million Americans have food allergies, and, according to Food Allergy Research & Education (FARE), "Each year, 200,000 people require emergency medical care for allergic reactions to food." In the U.K., food allergies are similarly prevalent, with 1-2 percent of adults and 5-8 percent of children afflicted. Despite a desire to prevent allergic reactions, it's challenging for food and beverage companies to clearly label their products regarding known allergens.
An enterprise resource planning (ERP) solution like the SAP food and beverage solution is the answer.
Main Food Allergy Groups
Eight primary foods or food groups – dairy, eggs, fish, crustacean shellfish, tree nuts, peanuts, wheat, and soybeans – account for 90 percent of food allergies. Allergic consumers must avoid these foods by looking to the package labeling to determine if their foods contain these allergens.
Food and Beverage Industry Challenge
It would make it easier for consumers if manufacturers recorded and documented allergen details within their products and associated ingredients for ingredient declarations and product labels. However, accounting solutions like QuickBooks vs more fully-featured ERP solutions, do not possess the standardization, control, and features to carry out these processes efficiently.
A robust ERP for small business enables a food and beverage company to overcome the challenges of managing a growing business while providing customers with greater transparency about their products' ingredients.
The Solution: SAP Food and Beverage Solution
Vision33's SAP food and beverage solution powered by SAP Business One can declare food allergens as part of the ingredient definition and product master details. If a product contains multiple ingredients (e.g., milk chocolate with nuts), all the allergens associated with that product's ingredients (i.e., milk, tree nuts, and peanuts) are rolled up to ensure no allergen is undeclared.
SAP Business One enables fresh produce, and food and beverage companies to ensure food safety, comply with strict industry standards, and simplify recall processes. Effective inventory controls, warehouse management, and recall features are built in to help companies grow fast, run simple, and drive profit.
Staying Competitive in a Changing Food and Beverage Industry
Learn how companies in the food and beverage industry overcome common business challenges, including declaring allergens, and remain competitive with the right enterprise technology. Access Vision33's Food Business Tech Case Study: Readiness Sets Stage for Meeting Future Trends today.