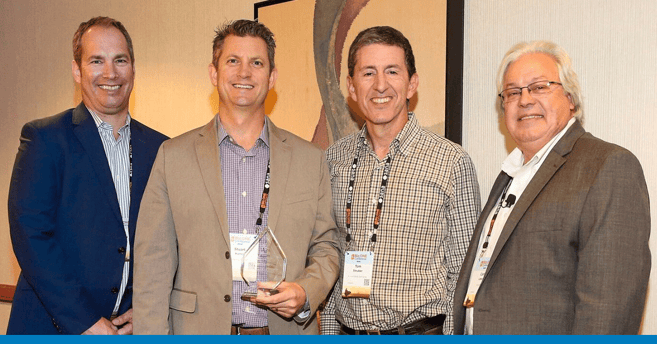 Pictured (left to right): Vice President, Vision33, Alex Rooney; Stuart Harris, Managing Partner, Alta Foodcraft Coffee & Refreshment Services; Tom Steuber, President/Owner, Associated Services; and Chief SAP Business One Ambassador, Vision33, Carl Lewis at the 2017 Biz.One event.
If this year's Visionary Award winners highlighted one thing in particular, it's the wide range of businesses that benefit from the implementation of SAP Business One. This week, Vision33 puts the spotlight on Visionary Award recipient, Steuber Companies, doing business as Associated Services and Alta Foodcraft. Vision33 presented the Visionary award to Steuber Company's Stuart Harris and Tom Steuber during a private luncheon held for Vision33 customers at this year's Biz.One event (formerly Americas' SAP User Group (ASUG) annual SAP Business One Summit).
About Visionary Award Recipient, Steuber Companies
Steuber Companies is an interesting Visionary Award recipient. The company is comprised of two businesses Alta Foodcraft and Associated Services owned by cousins, Philip Steuber, Tom Steuber, and Stuart Harris. Although they operate independently, the two companies collaborate closely to serve customers across California. Their businesses provide a full range of snacks, beverages, and break-room supplies to over 10,000 businesses throughout Northern and Southern California.
Together, Alta Foodcraft and Associated Services have built successful businesses by adapting their offering and services to meet the changing preferences of their customers while maintaining a focus on customer service. Customers depend on Alta Foodcraft and Associated Services to help them energize and motivate employees by keeping their office breakroom stocked with supplies and equipped with commercial coffee and water machines.
Their commitment to flexibility and adaptation helped facilitate the growth of the Steuber Companies, positioning them as leaders in the office refreshment industry. Vision33 selected Steuber Companies as a Visionary Award winner for leveraging SAP Business One in an innovative way that enabled the two companies to grow.
How SAP Business One Has Transformed Steuber Companies
Although Alta Foodcraft and Associated Services operate as two separate companies, they share the same business backend. And so, when it came time to adopt an enterprise resource planning (ERP) solution to manage growth, they both chose to implement SAP Business One; sharing the investment in transformative SAP technology.
So, while technically two businesses, both are part of the same business backend with SAP Business One leveraged to seamlessly connect the two. The synergy between the companies is evident, as demonstrated by just how quickly and efficient the implementation of SAP Business One has been for the company.
Working together with Vision33's team of certified SAP Business One consultants, Steuber Companies began their go-live within just 10 weeks from the project kick-off to go-live on April 1st. Following a successful start, the company went on to add 3 additional locations on May 1st and then another 4 on June 1st earlier this year. For this, Vision33 felt that the company should be recognized with a Visionary Award for its exemplary use of SAP Business One in helping grow both businesses.
Stay tuned as Vision33 highlights more of the Visionary Award winners in the weeks to come. In the meantime, if you'd like to learn more about SAP Business One, download the free information kit to find out how the solution can help overcome your business growth challenges.