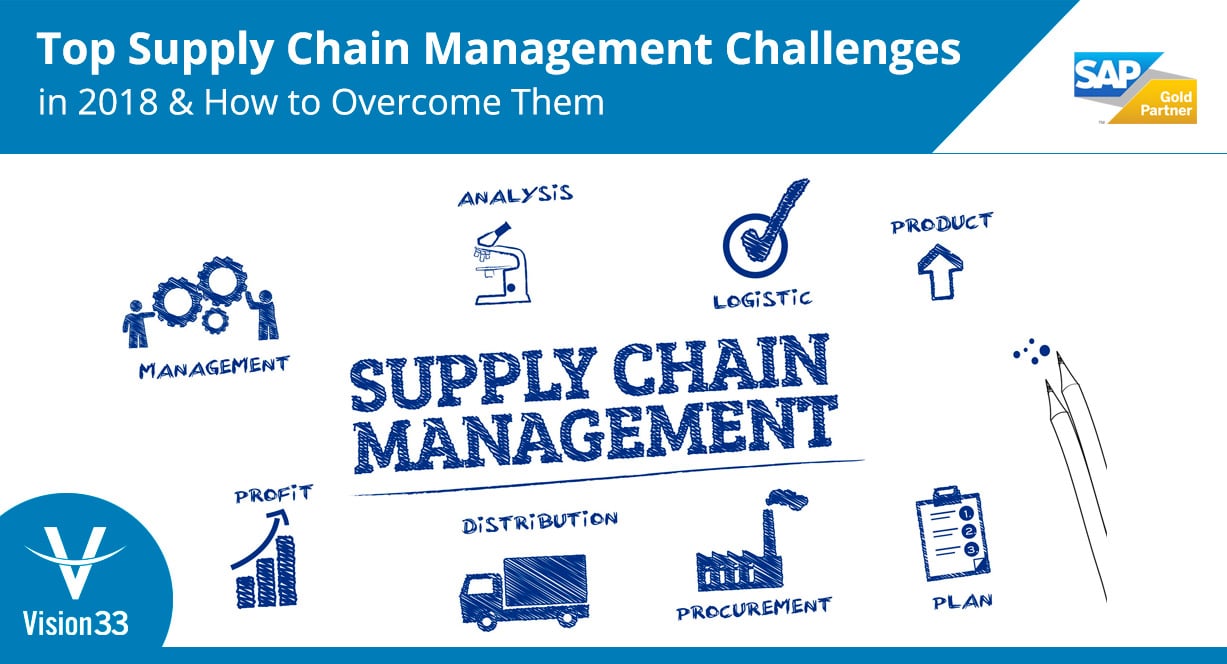 Globalization, outsourced manufacturing, longer supply chains, and tighter product margins – whatever the challenge, effectively managing the supply chain in 2018 has become even more complex than ever.
To be successful in 2018, wholesale distributors are now rethinking their processes and use of business data to remain relevant and beat the competition. To that end, leading wholesale distributors are leveraging digital technology to create, deliver, and sustain new and meaningful customer relationships.
Let's look at the top supply chain management challenges as reported by our wholesale distributor customers:
Challenge #1: Inability to Control and Track Inventory in Multiple Warehouses /Stores
As a business grows and expands into multiple warehouses, stores, or offices there is the potential to lose control over inventory if business systems between locations are not connected. As a result, they are unaware of the inventory available at each location. This impedes the management of transfers and products that are in transit disappear off the map until they arrive at their destination.
Challenge #2: Lack of Visibility into Inventory Management
Lack of visibility into existing stock levels is one of the biggest challenges for wholesale distributors' inventory management. A common scenario is that a business' procurement staff will purchase stock that is already available in a warehouse, or that sales people will sell stock that is unavailable. The bottom line, a lack of stock optimization can cause strain on a business' cash flow or result in customer dissatisfaction.
Challenge #3: Anticipating Purchase and Production Needs
One of the most common challenges in supply chain management for growing manufacturers is how to anticipate purchase and production needs. Manufacturers receive minimal information about upcoming production demand so inventory is estimated rather than leveraging historical data which is not easily accessible. This leads to missed opportunities for sales and bottlenecks that can stammer or even halt production.
Challenge #4: Lack of Product Traceability
When you don't have the availability of real-time information that shows you where you are in the product production cycle (from raw to finished good, and anywhere in between), you are at the risk of jeopardizing any future relationships you may have with your customers, especially in highly regulated industries like medical device and fresh produce. Beyond legal issues that can stall new product introductions, this can negatively affect a brand and a buyers' propensity to purchase from you in the future.
How to Overcome Supply Chain Challenges
To overcome these challenges, it's essential for wholesale distributors to have a clear control of their business processes first. Without this, isolated 'quick fixes' to respond to changing demands, can go on to cause costly production problems farther down the line.
The days of relying on spreadsheets or easy fixes are disappearing, as even small manufacturers are choosing today's proven ERP products to be successful. That makes an investment in the right kind of supply chain ERP system that simplifies supply chain management is business-critical. Utilizing the right supply chain ERP solution can bring critical real time information about the supply chain in clear view. It's also a surefire way to meet new challenges and out-think competitive moves from other wholesale distributors vying for the same customers.
Lastly, we need to be aware of the importance that globalization plays in today's supply chain management and the interconnectedness that it brings. Wholesale distributors exist in a complex ecosystem that is a supply chain, this interconnectedness calls for a solution that has the flexibility to adapt to any web of business regardless of its depth or breadth.