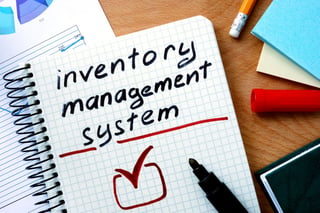 Because inventory is the bread and butter of a distribution business, it's imperative that industry leaders utilize the best inventory management software tools to streamline and optimize warehouse operations. The right software can also help distributors overcome common inventory and warehouse challenges. Wholesale distributors face major inventory obstacles that often include:
Unknown availability of items
Unknown location of items
Excess inventory
Out-of-stock situations
Overstocking
Poor warehouse organization

Inaccurate or inefficient inventory tracking methods
If you're facing any of these common inventory problems, it's time to consider an inventory management assessment.
After working with companies around the world facing similar challenges, we've created...
10 questions to help companies assess the effectiveness of their current inventory system:
How often do you count inventory to maintain accuracy in your warehouse?
Do you shut down your warehouse operations or have your employees work on the weekends to perform an inventory count?
Do you record inspection adjustments and is the data fully integrated across all of your management systems?
Is your data linked seamlessly with back-office inventory management, fulfillment and accounting? For example, are your systems able to share data seamlessly across departments?
Does your inventory stock have the capability to meet the demands of orders made throughout all your business lines?
Do you have access to critical updates and real-time information?
Are you able to control the rotation of merchandise with your current systems automatically?
How often are marketing, sample, trade show, or employee purchases adjusted in the system?
Are you able to control what merchandise comes in, what date, and from what invoice of lot number?
Does your current system deliver accurate reports on your inventory stock and past demands to help you make informed decisions for future purchasing and order?
In order to improve on-time delivery and reduce shortages without maintaining surplus inventory, businesses need an integrated application to manage inventory accurately across multiple warehouses and locations. A comprehensive inventory management system will provide a number of inventory valuation models, support consignment and drop shipping. It can facilitate core production planning, including material requirements planning and production orders management, along with providing multiple types of bills of materials (BOMs).
A flexible solution can give you real-time access to accurate information on inventory and production orders from your desktop or mobile device, whether you are in the office, at the warehouse, or at a remote location.
The good news is that all of these challenges can be easily overcome and even outright avoided with an effective inventory management system like SAP Business One.
The SAP Business One application improves inventory management practices in every way. With real-time data integrated on one easy-to-use system, every member of your organization gains access to vital inventory information. That means that your accounting department can monitor inventory value and create more effective budgets for purchases. Your sales and customer service representatives can check up on item availability, move more valuable products, and land more big sales – no matter where they are located – in the office or on the road. Utilizing the right inventory management software is not only good for your warehouse–it benefits the rest of your business as well.
Vision33 consultants can help you determine the effectiveness of your inventory management systems and determine which is best for you. Contact us if you'd like to discuss a solution that better suits your business needs.
Looking to see how your current inventory management system stacks up against your competitors? Download our Inventory Management Assessment to see how well your current systems are performing.
In this assessment, you'll take a short quiz to determine your inventory management score. Once you've determined your score, you can see how your current system is performing and how you can improve your current processes.