Old-school accounting methods lead to errors and excessive time spent making corrections. Learn the benefits of a cloud financial management solution.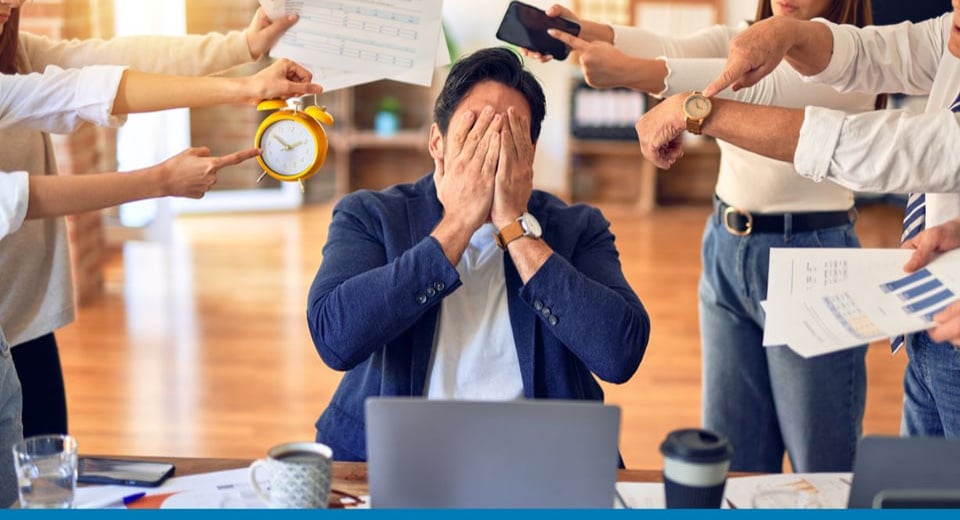 This post was updated in March 2023.
According to one of the world's leading management consulting firms, employees spend a third of their time on repetitive tasks, regardless of their job title.
As you read this, someone on your finance team is trying to decipher a mess of data in a spreadsheet. Or flipping through paper files and opening countless electronic folders to find supporting documents for transactions. Or frantically scrolling through emails to find approvals. Or all four.
Do you know how much time and money you're wasting and how many mistakes you're making? Too much and too many.
If you switch to a cloud-native financial management solution like Sage Intacct, you won't have to worry. Intacct automates manual, repetitive tasks like purchase order workflows, vendor payments, and bank reconciliations so your finance team can ditch the paper and focus on what really matters.
Here are four unmistakable signs you're ready to make the change.
Purchasing Is a Nightmare
Automating the Purchase Order Process
Cramped fingers from filling out forms and playing "find the manager" are common in your office. Even if you use email for purchasing, you still need to weed through emails for approvals, and you aren't sure where purchase orders are in the approval process.
With Sage Intacct, you can automate up to 90% of the purchase order process. That means your team can focus on finding more cost-effective vendors, identifying ways to save money, and solidifying supplier relationships.
Paying Vendors Is Expensive
A purchase order is approved, and now it's time to pay the vendor. If you still use checks, they need to be printed, signed, stuffed into envelopes, and mailed. Then, you must file supporting documents and manually reconcile payments. This tedious, error-prone process costs companies an average of $12-30 per bill in labor, postage, and mailing supplies.
Sage Intacct streamlines the payment process from bill to reconciliation with Vendor Payments powered by CSI. Once you submit a payment through Intacct, CSI handles the rest, so you can pay vendors quickly and easily, speed up reconciliations, and improve vendor relationships.
Playing Detective Is Exhausting
Spending hours going back and forth between internal records and bank statements to match transactions and find discrepancies is bad enough. Then, you have to spend even more time investigating the discrepancies. The challenge worsens as the month goes by and the close is looming.
If you think manual reconciliations are unavoidable, think again—it's now possible to automate most of the process. Sage Intacct connects with over 10,000 financial institutions worldwide to give your team an accurate, up-to-date picture of your cash. Once you stop playing detective, you can quickly make investment decisions and spot the potential for poor cash flow before it happens.
Audits Are Stressing You Out
Audit Automation Made Easy
Even the most well-organized finance teams feel the stress of audits. You spend hours or even days backtracking through transactions, scrutinizing their compliance, and searching for old supporting documents. And the longer an audit drags on, the more it costs your organization.
By giving auditors easy access to the information they need, you can make the audit process stress-free. Sage Intacct's audit-ready dashboards provide auditors read-only access to reports and allow them to drill down into underlying transactions. Each record shows auditors when the record was created, who created it, if it was edited, and who edited it. You can also attach backup documents to transactions, making them accessible to auditors with a click.
Learn More
Download the free eBook below to learn more about Sage Intacct and how it can eliminate your finance team's manual tasks. Read about the benefits companies like yours can enjoy with Intacct and find links to additional resources.