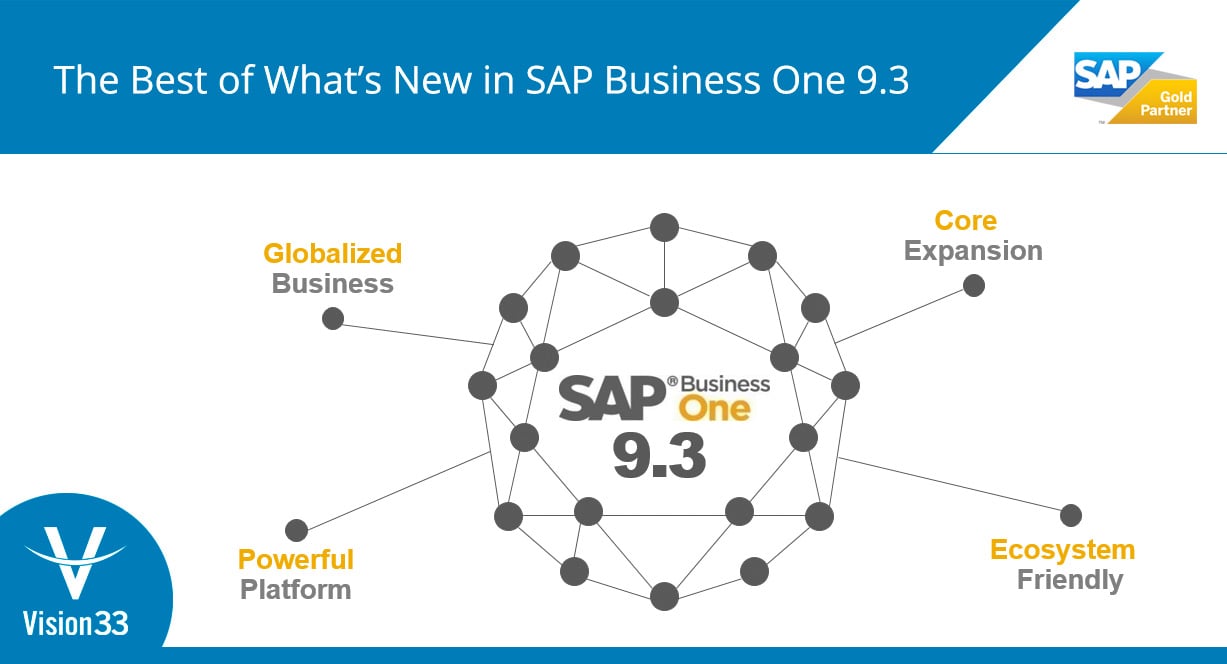 SAP Business One 9.3 is almost here! The leader in business management solutions, SAP, recently announced that the latest release of its flagship solution has entered the ramp-up phase. Small and midsized enterprises (SMEs) and subsidiaries of large enterprises can look forward to the general release of SAP Business One 9.3, slated to land later this year.
Based on Vision33's early look at the application's enhancements and new features, it's clear that SAP is not only listening to business users' feedback but that it's equally considering the product's future roadmap. It's clear that SAP is investing in areas that will continue to play a big role in streamlining businesses' operations and increasing their profitability.
Let's take a look at some of the highlights from this year's highly anticipated release of SAP Business One 9.3:
In-Memory Analytics
Building on the growth of in-memory analytics in 2017, SAP is poised to leverage its SAP HANA platform; building on the semantic layer, offering new cockpit templates. With a new analytics portal, users will be able to schedule and consume reports without the need to log into SAP Business One.
Simple Production Routing
New routing function facilitates production processing through a defined sequence of production stages. This new production module feature gives businesses the ability to plan, execute and manage basic route based production. For businesses that do light production, this will provide a significant enhancement, providing users with greater control over production-related item and resource component management.
Native Support for Return Merchandise Authorization Management (RMA)
Support for a Return Merchandise Authorization (RMA) process gives SAP Business One users the capability to issue authorizations of returned products, track status, and handle returned materials. Ultimately, the key benefit of RMA is enabling businesses to minimize costs of processing returns and avoid errors inventory or financials.
Project Management Updates
Project management in SAP Business One Version 9.3 also receives attention. SAP Business One users have a holistic overview of projects and detailed information related to each project and increases productivity and transparency and the billing wizard streamlines the standard billing or milestone billing process and helps improve efficiency. The ability to access a Gantt Chart via context menu in the project window helps visualize the project as a whole.
Simplifying CRM Processes
A simple update, but an important one. SAP has centralized the CRM module; making it easily accessible under the Financials module. Additionally, SAP Business One version 9.3 gives users the ability to assign activity to multiple users, removing the need to create an activity for each individual user. Ultimately this enhances usability and increases productivity.
Authorization Management
User authorizations have now been simplified making it possible to manage temporary authorizations and quickly apply form setting defaults to a group of users.
Price List Enhancements
Price lists also receive an update, giving users the ability to define pricing per unit. Now the price list reflects this with an additional field: Pricing Unit for more accurate pricing for small value items.
Learn More About SAP Business One 9.3
To learn more about the latest version of SAP Business One and to access many other useful SAP Business One resources, watch the recent Vision33 TOTAL Care Weekly Web Chat recording hosted by Vision33's Chief SAP Business One Ambassador, Carl B. Lewis. In the video, Lewis provides an overview of many more features and enhancements users can look forward to later this year when SAP Business One 9.3 reaches general availability.
More Articles in the Best of SAP Business One version 9.3 Series:
Part 8: Pricing Enhancements for Discount Groups
Part 6: Microsoft Excel Entry of Serial Batch Numbers
Part 5: Advanced GL Determinations with User Defined Fields
Part 4: Authorizations, Personal Settings, Production Router
Part 3: Journal Entry Import from Microsoft Excel and Change Log Utilty
Part 2: Return Materials Authorization (RMA)