Read this blog to find out everything you need to know about SAP Business One from product functionality, cloud and on-premise deployment options and more.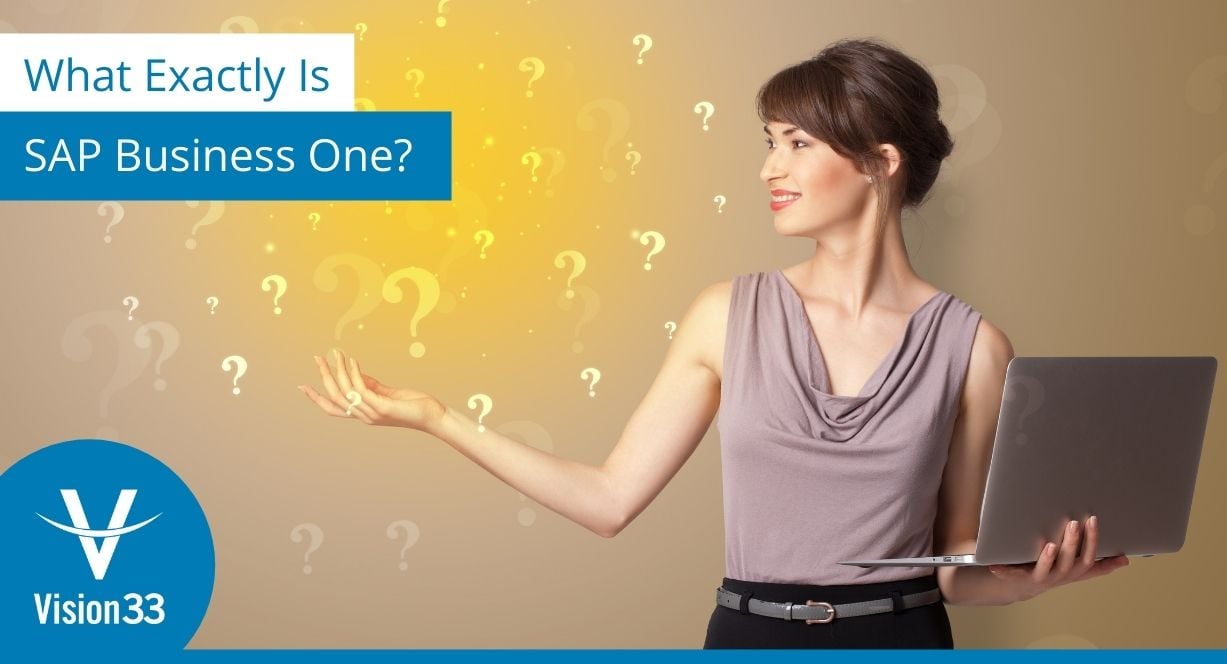 At Vision33, our consultants often get asked 'What is SAP Business One?'. The question usually comes from growing business owners who are evaluating solutions such as QuickBooks, NetSuite and other accounting or enterprise resource planning (ERP) solutions.
Usually when people hear 'SAP,' they think of solutions that are designed for huge corporations when in fact, over 77% of SAP's customers are actually small to midsize businesses like yours.
So, What Is SAP Business One?
Contrary to popular misconception, SAP Business One - or as it's commonly called, SAP B1 - is not a scaled-down version of the larger SAP products.
SAP Business One is an affordable and comprehensive best-of-breed ERP solution that can run your entire business. SAP Business One covers all core business processes including financials, operations, customer relationship management, vendor relationship management, inventory management, warehousing and more.
From a technical perspective, SAP Business One is built on rock-solid Microsoft SQL Server Database and now supports SAP's own in-memory platform HANA, which is their fastest-growing product in SAP's history. SAP HANA allows you to analyze massive amounts of data in real-time and eliminates the complexities of legacy IT architecture so your business can run smarter, faster and simpler.
Can SAP Business One Adapt to My Needs?
Luckily, SAP Business One adapts to your business processes, not the other way around. SAP Business One offers the flexibility to meet your business's unique process requirements and challenges, regardless of the industry your company operates within. With over 550 prepackaged, fully integrated industry-specific ERP modules for retail, produce, manufacturing, brewery and more, SAP Business One provides your business with the tools you need to succeed.
What Business Challenges Does SAP Business One Tackle?
SAP Business One is designed specifically for small to midsized businesses that have outgrown their current small business accounting software or spreadsheets and/or want to have better visibility of all departments from one program. Many of our customers first start their research knowing they have a specific business pain – such as redundant data entry, poor reporting, or sales challenges due to lack of visibility into customer accounts and inventory. Through the discovery process, they see how SAP Business One can solve these challenges and streamline operations dramatically. SAP Business One is also a good fit for large enterprises using SAP and looking to quickly integrate their subsidiaries or rapidly grow into new geographic markets.
How Can SAP Business One Benefit My Growing Business?
SAP Business One is designed to meet the needs of SMEs (Small Medium Enterprises) and subsidiaries of large enterprises. Businesses that adopt SAP Business One quickly see measurable benefits when using an integrated ERP application including:
Targeted business growth through streamlined operations
Improved customer retention and satisfaction through quicker response times and instant access to customer information
Operational efficiency achieved by eliminating redundant and manual data entry errors with integrated core functionality
Closer relationships with key stakeholders including customers, vendors, and employees through better supply chain management
Lower technology costs and a quick return on investment
We've noticed that our customers that use SAP Business One quickly realize the ERP system reengineers and optimizes their business processes. Our customers such as Virtual Graffiti, Advance Adapters, and Richardson Caps have witnessed improvements in operational efficiency, greater data transparency and business process reengineering.
How Long Does It Take to Implement SAP Business One?
Several factors determine how quickly SAP Business One can be implemented and customized to your business. As your implementation partner, Vision33 follows a specific methodology to ensure that you have a clear understanding of the time and resources necessary at the outset of the project. Additional considerations include; the size of your business, complexity of your business structure, type of ERP deployment, and any specific add-ons or customizations required.
What Deployment Options Are Available?
SAP Business One is available as an on-premise or hosted solution through Amazon Web Services (AWS). The decision to deploy the solution using your own infrastructure or through a hosted platform depends on your company's overall requirements, system investment, and long-term goals.
So, If Your Colleagues Ask You 'What Is SAP Business One?' You Can Say...
SAP Business One is designed to be affordable and expand to your company needs as you continue to grow.
SAP Business One is a powerful all-in-one ERP solution that covers all areas of your business.
SAP Business One is flexible and adapts to your business needs - not the other way around.
Learn More
We invite you to check out our SAP Business One Info Kit. It's full of solution briefs, videos and demos to show you what features are available and how it can impact your operations. We have also included a basic webinar series from our Vision33 TOTAL Care Support Team to provide a more in-depth look at using SAP Business One.