Check out the latest Vision33's Produce Supply Chain Infographic to see how efficient a food and beverage company supply chain can be when you choose SAP Business One for Food and Beverage Manufacturers. Read the article.

The most profitable food and beverage companies are successful because they continually better their business processes. They are also complying with industry traceability standards by using an integrated enterprise resource planning (ERP) solution. SAP Business One is a scalable solution that integrates with your shop floor systems to offer complete visibility of your product movement. SAP Business One is proven to help produce companies improve quality and streamline operations throughout the supply chain.
Take a look at Vision33's Supply Chain infographic to see a step by step flowchart of how an integrated ERP solution like SAP Business One can help your produce company comply with strict industry regulations, maintain a high level of quality, and keep your customers happy.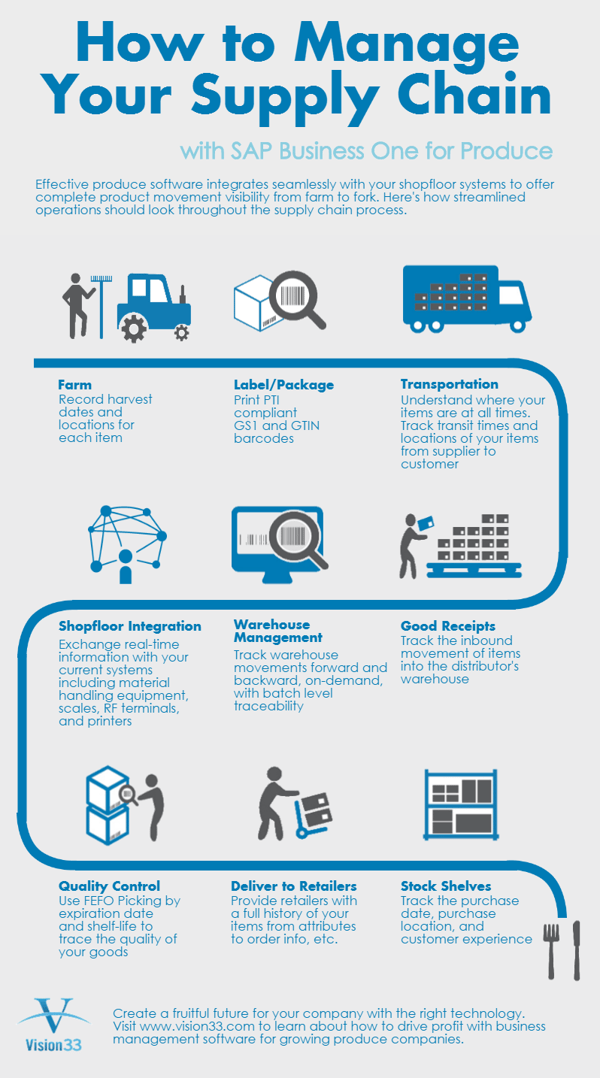 Produce Traceability Technology in Focus: How to Ensure Food Safety from Farm to Fork
SAP Business One is a comprehensive business management software solution that handles all accounting and operational data. It enables companies in the food and beverage industry to ensure food safety, comply with strict industry standards and simplify recall processes. Effective inventory controls, warehouse management, and recall features are built in that are proven to help companies in the food and beverage industry grow fast, run simple and drive profit. For more information about SAP Business One for the Food and Beverage Industry download our product brochure.