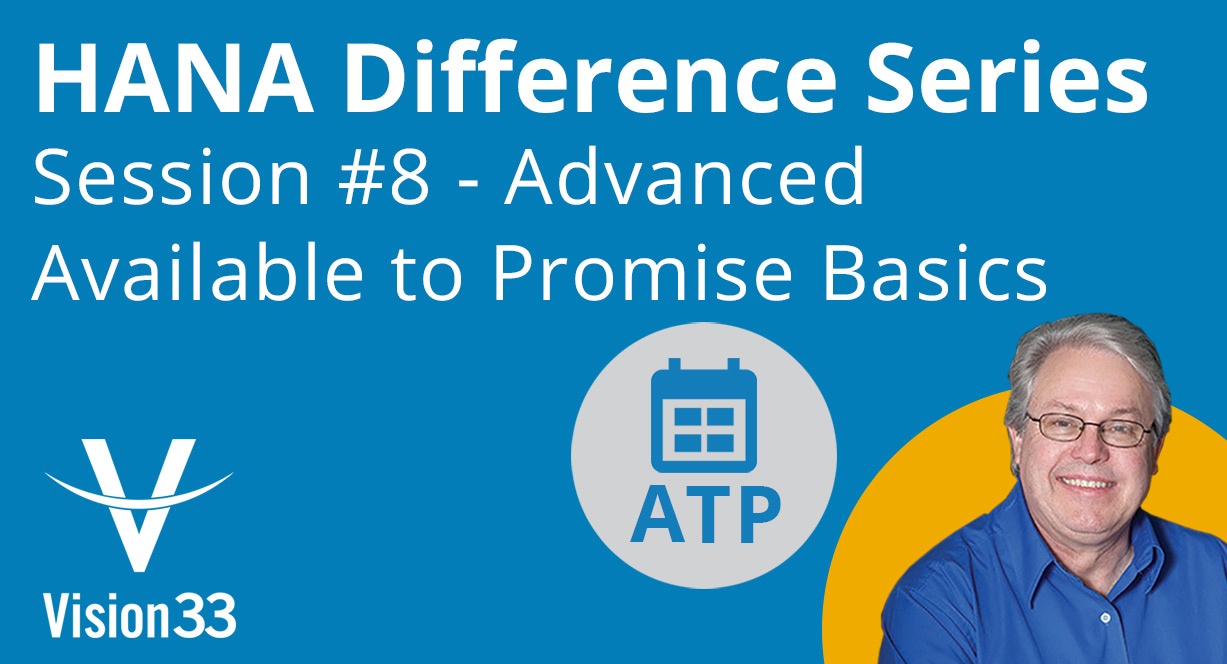 In the SAP HANA Series, we look at many of the features exclusive to the SAP Business One version for SAP HANA. Advanced Available to Promise, other features covered in this series are not present in the Microsoft SQL database version of SAP Business One and are a great motivation to consider for users that are using the Microsoft SQL database version of SAP Business One. The Advanced Available to Promise (ATP) feature in SAP HANA is a great feature for the omnichannel world where greater visibility is needed into a business' fulfillment.

SAP Business One, version for SAP HANA Advanced ATP function allows you to check real-time ATP, reserve ATP, propose delivery schedules, control delivery quantities, and reschedule deliveries. The Advanced ATP function applies to documents that cause potential outbound inventory movement. They are as follows:

- Sales orders with positive quantity
- A/R reserve invoices with a positive quantity
- A/R correction reserve invoices with a positive quantity
- Inventory transfer requests
- Production orders
- Purchase orders with negative quantity
- A/P reserve invoices with negative quantity
- A/P correction reserve invoices with negative quantity


The Basics of Advanced ATP

In a recent Vision33 Wednesday webchat, host Carl Lewis, SAP Business One Ambassador, covered the basics of Advanced ATP functionality in SAP Business One, version for SAP HANA so that users can get a general overview of what is a rich feature in SAP HANA. Before users can access the functionality, there are several steps which must be followed first:

• Under the modules tab in SAP Business One go to Administration and then System Initialization,
• Under Company Details click the Basic Initialization tab
• Select the Enable Advanced G/L Determination check box.
• Next, while still within the Administration menu item, go to Document Settings
• Within the General tab, select the Enable Advance Available to Promise in the system
• Next, you'll have to set up ATP Checking Rules – Setup button.
• This prompts the ATP Checking Rule List. Click on Details button, and you'll see a Checking Rule Details window.
• Once these settings are configured users can have multiple rules set up in ATP Checking Rule List, and once they're set up the next step is to go the Item Groups – Setup for further configuration.

From Modules, the user will need to go to Setup, Opportunities, and Item Groups. Here a user will need to apply a Checking Rule to each item group in SAP Business One. Clicking on the Checking Rule text box will prompt the list of Detailed Checking Rules that were previously defined. From here you can select from the list which rules that you want to be included. This concludes the setup portion of turning on Advanced ATP in SAP Business One version for SAP HANA.
Advanced ATP
Once configured, users can now make use of Advance ATP feature. In the demo, Lewis focuses on an inventory item as we're processing sales information. Many other documents impact on the A/R and A/P side of business, but for now we'll focus on the sales order. As do production order and negative purchase orders that will impact ATP calculation. It will always tell the user what the origin is of the calculation.
When analyzing a Sales Order, click in the quantity area and then right click on Available-to-Promise from the menu to access these features. Alternatively, you can select 'Go To' from the menu bar at the top of the screen, and you can also access the Inventory Status (Available-to-Promise).
From the Available to Promise screen users will see information about all the orders on the screen including Purchase Orders and Sales Orders. You'll also see the amount of each inventory item that was purchased under the Ordered section and orders with committed quantities. Each day it keeps an available calculation of what's available in the system. The Multiple Warehouses button will display quantities by locations, and it is possible to include or exclude by a warehouse as well.
Alternate items have also been integrated so if there's a related product available to offer the customer in place of an out of stock item; users can access this list from the convenience of the Inventory Status (Available-to-Promise) feature.
Sales Order
When you initially enter a quantity into a sales order or if the user updates the quantity, users will see that the notice 'Availability check completed successfully.' Automatically, the system checks the inventory and determines if there's adequate inventory available to complete the sales order. Delivery schedule details are also changed to reflect the inventory availability. You can also create a schedule for the ordered amount of inventory to be delivered over multiple dates. Once the user has confirmed all the details, click the confirm button and the inventory will then be committed. These order items will be prioritized in a pick and pack list as a result.
This was a brief introduction to the Advanced ATP feature in SAP HANA. For users that would like to learn more about the ATP Check function, watch the demonstration of the setup and an explanation of additional features like covered in the application.