With the SAP Business One Sales mobile app, you can work with activities, view business contents, manage customer data, and more. Watch the video.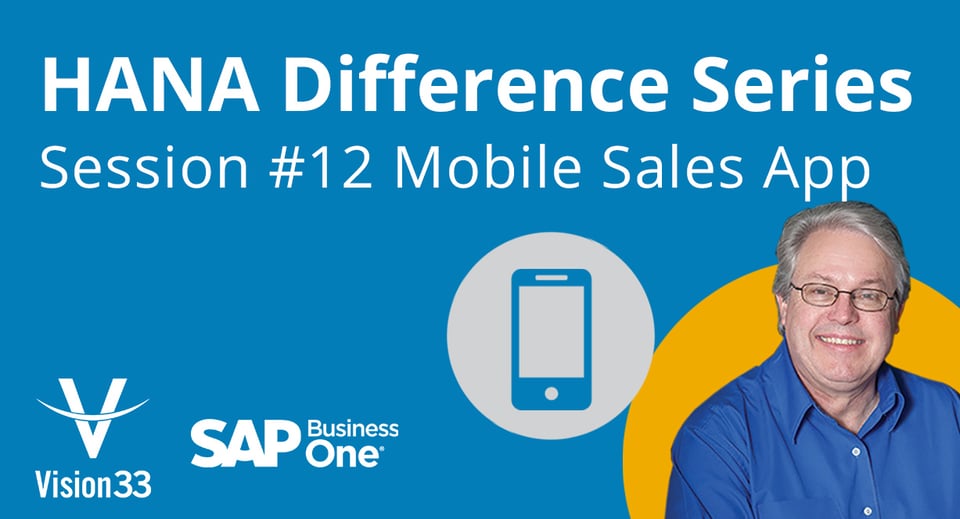 With the SAP Business One Sales mobile app, you can work with activities, view business contents, manage customer data, monitor sales opportunities, and do much more. Only available for SAP Business One, version for SAP HANA, this mobile solution presents SAP Business One users yet another compelling reason to deploy their SAP Business One solution on the SAP HANA server.

The SAP Business One Sales mobile app does not require an additional SAP Business One license to use and is available through software as a service (SaaS) subscription model.

After logging in, you'll be able to see several icons representing the key features of the app:

View, add, edit, close, and create follow-up activities of the user who is currently logged on to the mobile app.


Access and manage customer information including addresses, phone numbers, and contact details; view historical activities and special prices; create new customers and new activities; and contact or locate partners.

Monitor inventory levels and access detailed information about your products, including sales price, available quantity, product specifications, and pictures.

Create, view, update, and search for sales quotations and sales orders. In addition, you can create, update, view, and close activities related to sales documents.

Create, view, and search for sales opportunities; view, add and edit stages of sales opportunities.

View predefined KPIs and dashboards (sales analysis and recommendations) in normal and full-screen mode.

View, download, and upload attachments (photos) to customers, items, activities, sales opportunities, and sales documents. As you can see, there are a lot of features packed into this nifty app, but for now, we'll highlight just a few.
SAP Business One KPIs in Detail
KPIs are useful because they provide a quick visual of valuable information at a glance like 'Open Amount of Deliveries for Customers, and 'Customer Receivables.' In addition to these preconstructed KPIs, you can also create your own KPIs and publish them to the app so that your salespeople have access to the graphics that are most relevant to them.
Many of the KPIs are drill-down capable; reports like 'Potential Amount of My Open Opportunities by Stage' for instance.
SAP Crystal Reports Are Accessible Too
Any Crystal report that you create in SAP Business One (that you make mobile available) can be published for use in the mobile applications for your team.
Reports like Credit Limit by Customer, Inventory Status, Monthly Sales Analysis, Service Call Backlog are useful for a salesperson out in the field without access to a computer. What's more, these reports are also running in real-time against the database to ensure that your employees have access to the most current information available.
Access Customer Records
The Customer feature in the SAP Business One Sales app also puts all the pertinent contact information that your salespeople need while on the road, contact details, account balance, credit limit used, and proposed reorder dates. You can also drill down into each contact to access even more information that you would find in the customer card in SAP Business One such as sales orders, history, and opportunities.
Keep your Day Organized with the Activities Feature
Salespeople will appreciate the activities feature in the SAP Business One Mobile Sales app. As a default, it displays activities that the salespeople need to do now. It allows you to make calls directly from the app as well.
See the SAP Business One Mobile Sales App in Action
For a video demonstration of the SAP Business One Sales mobile app, watch Vision33's recent Wednesday Web Chat hosted by Carl Lewis. Carl covers these features and more and how they can equip your salespeople with real-time data from SAP Business One for SAP HANA.


Check out additional sessions of our HANA Difference Series below!