Advanced Dashboard by SAP provide additional insight to users associated with these dashboards and KPIs available exclusively to SAP HANA users.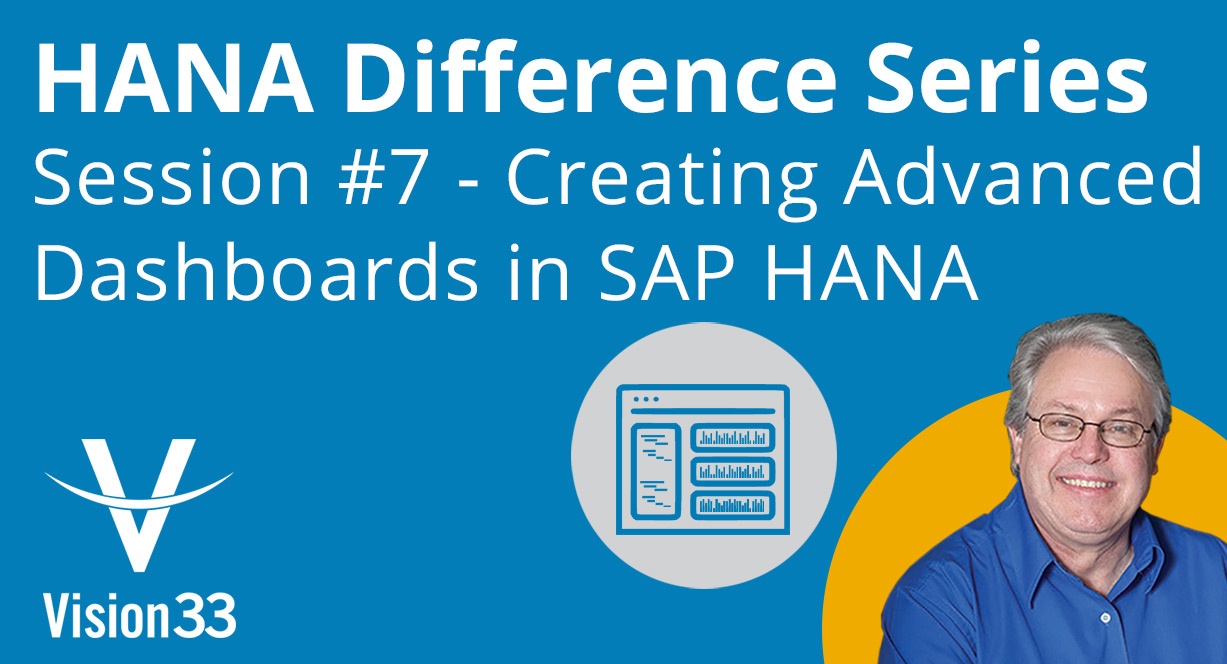 Following the release of SAP Business One version for SAP HANA 9.1 users were introduced to a new feature called Advanced Dashboards. In Vision33's previous SAP HANA Difference series videos, SAP Business Ambassador, Carl Lewis, covered how SAP HANA users can take advantage of the Pervasive Analytics Designer and use KPIs (key performance indicators) and dashboards. The motivation for the introduction of Advanced Dashboard by SAP is to provide additional insight to users associated with these dashboards and KPIs available exclusively to SAP HANA users.
What is an Advanced Dashboard?
An Advanced Dashboard is a type of supplementary cockpit that is launched from the menu of a pervasive dashboard or by clicking on a KPI widget in a user's main cockpit. It contains a set of pages with additional pervasive dashboards and KPIs. When a user needs a detailed analysis to understand what is driving performance metrics, an Advanced Dashboard provides supplementary cockpits to provide additional insight into the business figures.
For example, if you go to Business Partner Master Data from the menu, you'll see the 'You Can Also' button. Clicking this button will prompt a list of Advanced Dashboards including 'View Customer 360' which is delivered out of the box by SAP. As you can see it isn't just one screen but rather a collection of multiple tabs, including General, Sales, Order Fulfillment, and Receivables. Users get a broad and deep look at customer relationship. There's also a filter to access another customer to analyze with this Advanced Dashboard.
In a recent Vision33 TOTAL Care webchat, SAP Business One ambassador, Carl Lewis, pointed out that it's useful when creating Advanced Dashboards to add the various KPIs and dashboards on a single screen with tabs dividing up a flow of data without having to scroll and move around the application. Users can leverage dashboards and KPIs within an Advanced Dashboard. Queries can be used to create KPIs and dashboards; we have that same capability with an Advanced Dashboard.
Conveniently Accessing Advanced Dashboards in SAP HANA
While Advanced Dashboards can't be added to the main menu, you can set up actions to access them conveniently through other dashboards you have on screen. A dashboard such as a 'Top 5 Vendors by Purchase Amount' bar graph users can create an action accessible by right-clicking the chart to prompt an Executive Dashboard display within the Pervasive Analytics. You can think of it as a drill down for dashboards. You could also set up an action that when right clicking on a customer listed in, for example, a chart of Top 5 Customers by Sales Amount, you could open the Advanced Dashboard Customer 360 for access to deeper details on that customer including General, Sales, Order Fulfillment, and Receivables.
Creating an Advanced Dashboard
Now that you understand Advanced Dashboards, the next step is to create your own in SAP Business One version for SAP HANA. In Pervasive Analytics, click on New Advanced Dashboard button from the choices on the left of the screen.
Next, you can give the Advanced Dashboard a name, and decide how many pages (or tabs) you'd like to add. You may not initially know how many of tabs you want, but you can always add more later. Save your progress using the checkmark in the top right corner to save your Advanced Dashboard.
Clicking the report icon with the + symbol to launch the Widget Gallery, you can select from a multitude of dashboards which display small charts and visualizations of business data such as Aging of Payables Overdue, Inventory Turnover, Best-Selling Items by Sales Amount, etc. You'll also find KPIs in the Widget Gallery that you can add to a tab, including Total Sales Amount (YTD), or Gross Profit (YTD).
These widgets are live, meaning it is possible to further drill down through them once they're added to your Advanced Dashboard. Once you're satisfied with the Advanced Analytics, click the save button. Upon exiting, you will now see the name of this report under the My Advanced Dashboards column of the Pervasive Analytics Designer Home screen. For more information on Pervasive Analytics and step by step instructions on creating your own Advanced Dashboard in SAP Business One version for SAP HANA, watch the demo video.
Check out additional sessions of our HANA Difference Series below!