As a produce company, if you asked an expert how to harvest top quality fruits and vegetables, they'd probably tell you to get the best of the best – best seeds, good soil, and proper environment. Similarly, if you want your produce company to have a bountiful future, the right technology combined with the proper care can help your company grow quickly and drive profit. Here's how:
Planting the Seed
Let's say that the "seed" is an integrated enterprise resource planning (ERP) solution. You need to ensure that the system you choose will have a specific feature set for the produce industry so that it can create strong "roots" to support your company. SAP Business One has been proven to help produce companies comply with strict industry regulations and streamline operations through:
PTI compliant labels and GS1 barcoding
Product management
Batch attributes
Automated administrative processes
FEFO picking and shelf-life management
Quality management
Inventory management
Real-time reporting
Creating the Right Environment
Just as seeds have difficulty taking root without nutritious soil, SAP Business One needs to be implemented by an experienced partner to ensure that you are getting the most out of your investment. A good implementation partner will provide your company with a steady stream of training made available to your company as needed. All of this combined with a capable leadership team with a strong business strategy and knowledgeable staff will set the stage for company growth.
Monitoring Growth
By using an integrated ERP solution proven to produce results for food manufacturers, you will have more time and money to spend on the things that really matter – your customers and your products. This causes your company to grow as customer satisfaction and loyalty grows. With SAP Business One, our clients have seen additional benefits including:
Complete traceability from farm to fork
Accurate, real-time data
Improved quality control
Streamlined operations throughout the supply chain
Compliance with strict industry standards
Visibility into the supply chain
Optimized production, packing and inventory management
Enhanced cash flow management
Click on the image below to view an expanded version of the SAP Business One for Produce Companies infographic and see how implementing SAP Business One with the right implementation partner can ultimately drive sustainable profit in your produce company. For more information, contact us at contact@vision33.com.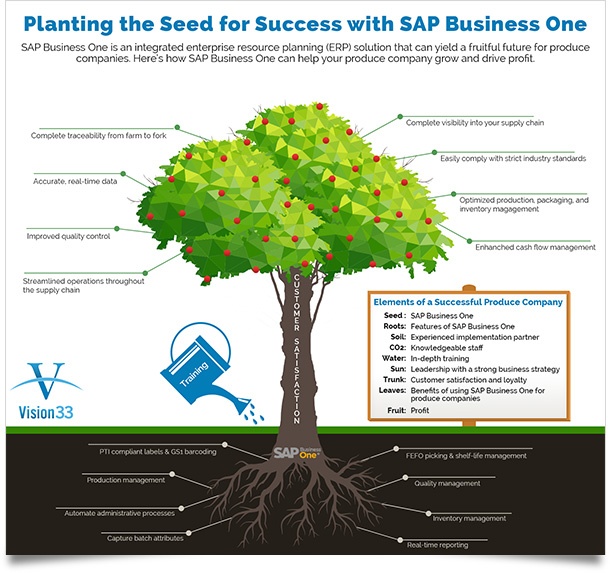 ---
Other relevant blog posts: