This is part 3 of 3 in our 'ERP for Manufacturing' series. Explore SAP Business One and SAP Business ByDesign, the best ERP solutions for manufacturers.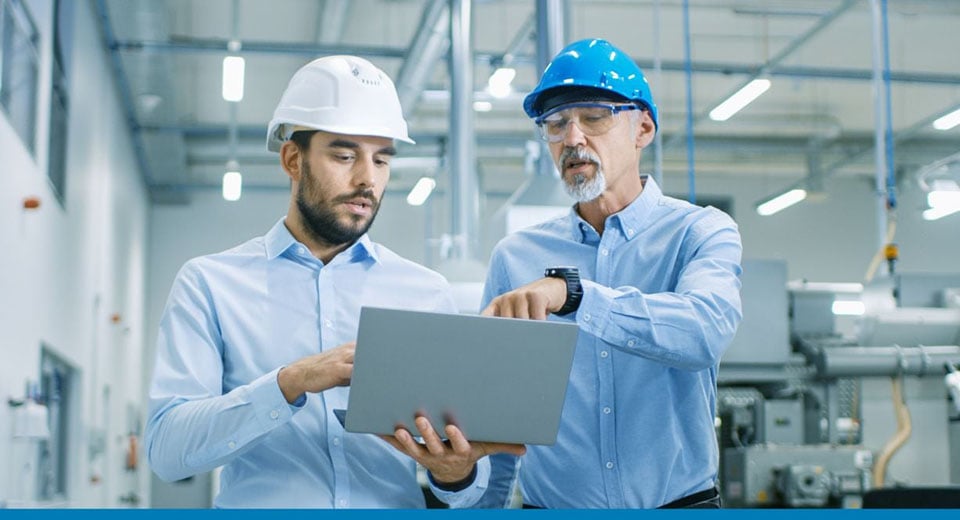 Welcome to post #3 in our series about enterprise resource planning (ERP) for small and midsized manufacturers. The first post explains the history and importance of ERP in manufacturing, and the second details the features manufacturers need in their ERPs based on the manufacturing they perform (discrete, process, or project-based).
This post explains why we recommend SAP Business One and SAP Business ByDesign as the best ERPs for manufacturing companies like yours.
Why Business One and Business ByDesign Stand Out
These two solutions are the backbone of over 70,000 small and midsized companies. So many businesses choose these two because of:
Customer choice

System flexibility

Broad functionality

High performance
Small and midsized manufacturers need to run operations their way, and SAP Business One and SAP Business ByDesign adapt to how you do business—not the other way around.
On-Premises vs. Cloud
If you want your ERP system implemented quickly and managed for you, Business ByDesign is a good choice. You can be up and running in the cloud-based Business ByDesign in just a few weeks, with access to pre-built processes for core business areas. However, a cloud deployment may not be the best option if your business has remote manufacturing sites where power and internet service can be spotty.
You can deploy Business One on-premises, in the cloud on Amazon Web Services (AWS), or both (aka hybrid). SAP Business One integrates every department—from financials and accounting to inventory and customer relationship management (CRM)—to provide total visibility into your entire business. Business One also has hundreds of SAP-approved integrations and add-ons that extend its functionality into virtually any area.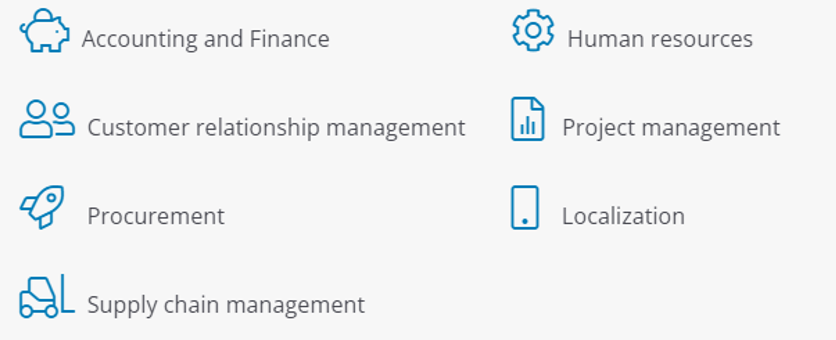 To fully appreciate the valuable integration capabilities of Business One, watch this brief video and read this case study featuring Saddleback. This UK-based bike manufacturer integrated Business One with a warehouse management system (WMS) for absolute stock control and product traceability across international markets.
Business One and Business ByDesign shine in international marketplaces. They run on SAP's differentiated, high-performance HANA platform, built for large-enterprise speed and scale at a small and midsized business (SMB) price. This is critical as you deal with an explosion of data but still need to deliver reports and analytics quickly.
Why Business One and Business ByDesign Overshadow Other Solutions
Business One and Business ByDesign have the widest range of customer choice, flexibility, functionality, and performance compared to other ERP products. Consider Epicor, Microsoft Dynamics, and NetSuite as examples.
These systems can't match the SAP products, even at the most basic levels. Because they can't provide the HANA performance, analysis and reporting are slow, and mobile/remote users struggle to accomplish basic tasks. Your competitors are fast and agile, and you need to be faster and agiler to take advantage of quickly changing market conditions.
Business One and Business ByDesign also excel in flexibility and simplicity—critical needs when running an SMB. NetSuite is inflexible, offering only cloud deployment. Epicor and Dynamics are inflexible regarding pricing and licensing. Epicor has continuously added modules to match ERP solution core functions, increasing the price. Customers also get bogged down in choosing the functionalities they need now and in the future.
Dynamics struggles with a lack of simplicity. If you need to fold sales teams into the process, Dynamics requires a separate CRM. In addition, Dynamics users need considerable technical skills, which is problematic in SMBs, where IT talent is often scarce and expensive.
Business One and Business ByDesign Check All the Boxes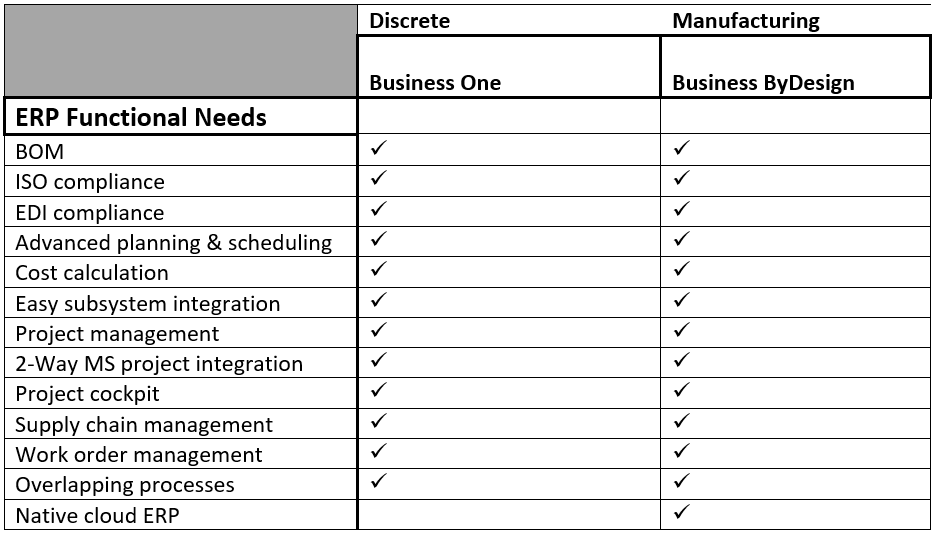 How to Choose Between Business One and Business ByDesign
Choosing the right ERP solution is a strategic business decision. Work with an expert with extensive SAP systems knowledge and in-depth manufacturing expertise.
Enter Vision33. Hundreds of companies have relied on us for the implementation, service, and support of their ERP solutions. Because we're much larger than typical mid-market software and IT consulting firms, we have more to offer: more expertise, more experience, more coverage options, and more technologies.
Post-implementation, Vision33 continues to deliver value through our industry-leading support program, TOTAL Care, and ongoing services from our world-class consulting team. The team helps manufacturing businesses like yours continuously innovate using the best industry-specific add-ons and integrations to support new business initiatives and evolving market demands.
Add-Ons to Boost Your ERP Solution's Functionality
Business One and Business ByDesign can transform your manufacturing operations on their own, but you can also add solutions to supercharge them. For example, ByDesign has native functionality for discrete manufacturing capabilities—but with the Beas Manufacturing add-on, Business One can be configured to handle all discrete manufacturing processes.
Or, if you need strong batch manufacturing capabilities, Business One and Produmex WMS are ideal choices. In addition to highly precise RF terminals, Produmex WMS has batch and serial number management and full traceability across all logistics operations.
Beas Manufacturing and Produmex WMS are two of several solutions from Boyum IT, a global, award-winning SAP Business One development house with over 8,000 customers worldwide. Vision33's longstanding partnership with Boyum IT has allowed hundreds of successful SAP Business One implementations worldwide with comprehensive manufacturing and warehouse management solutions.
Maximize Your ERP Investment With Integration
When you consider an ERP solution, don't forget to consider what the right partner can help you achieve with that solution. Consider your other mission-critical business applications for collaboration, marketing, eCommerce, shipping, and payroll—and imagine how much better your manufacturing operations would run if those applications could "talk" to each other.
With The Saltbox Platform, they can. Saltbox is Vision33's exclusive integration platform as a service (iPaaS) solution for enterprise integration, workflow, and collaboration between business applications. Saltbox eliminates human error, saves time, and maximizes your ERP investment.
Vision33's certified consultants have worked with hundreds of manufacturing businesses worldwide to seamlessly integrate their ERP solutions with new and existing applications. From custom expense systems to third-party EDI applications and more, the application-to-application and ERP integration opportunities are limited only by your imagination.
Best of all, Saltbox is quick to implement, inexpensive, and easy to use—even your least tech-savvy team members can create connections and workflows with a drag-and-drop visual data mapper.
Take the Next Step to Manufacturing Success
Ready to discuss your manufacturing business's challenges and how the right ERP solution (and the right partner) can overcome them? Get in touch with a certified Vision33 consultant today.
SAP Business One
,
ERP Solutions
,
Cloud ERP Solutions
,
Manufacturing ERP
,
SAP Manufacturing
,
SAP ERP
,
Warehouse Management Software
,
ERP System Integration
,
Integration Platform
,
ERP Integration
,
SAP Business ByDesign
,
Best ERP for Manufacturing
,
Manufacturing ERP Software
,
Manufacturing ERP Systems
,
SAP Partner
,
SAP Consultant
,
ERP for Manufacturing
,
Integration Platform as a Service