Many organizations experience these 3 common challenges in invoice processing, especially if they use small business accounting applications. Learn more.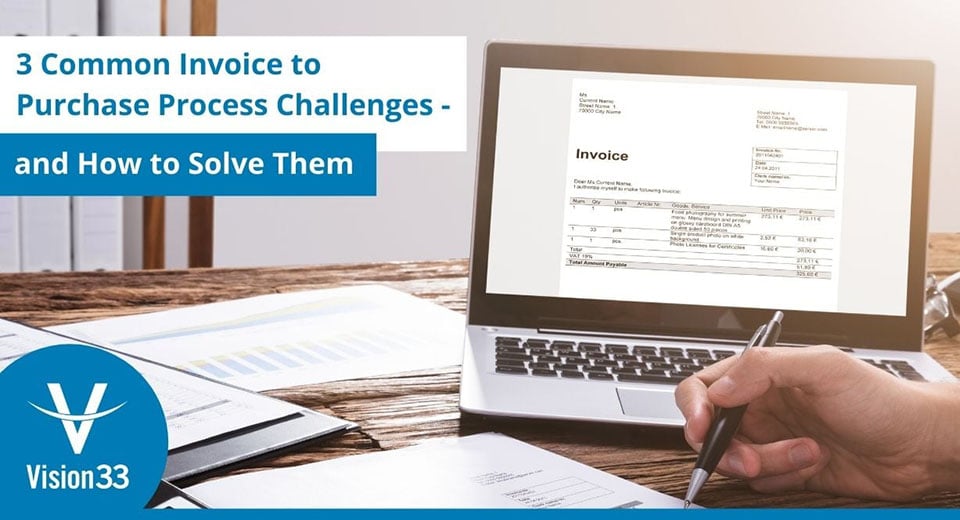 If you'd rather visit the dentist than endure the invoice process, you're not alone. Many organizations find the invoice to purchase process painful, especially if they use small business accounting applications.
While they're ideal solutions for start-up organizations, small business accounting applications can't streamline and automate the invoice to purchase process, leaving you to rely on time-consuming, error-prone manual processes and spreadsheets. That's time you could spend on serving your customers and growing your business.
Here are some of the most common invoice to purchase process challenges – and how to solve them.
Invoice Processing Takes Forever
If you're manually entering invoice data and waiting for approvals, there aren't enough hours in the day to get it all done. Automation is critical. Imagine how many hours you and your team could save if your technology could automate invoice processing.
There's Too Much Paper
Does your invoice process involve a forest's worth of paper? Paper-based processes aren't just detrimental to the environment – they cause critical information to get lost in the shuffle. By eliminating paper invoices, you can reduce your AP team's workload, save on storage and retrieval costs, and increase overall efficiencies.
You Have No Idea What You're Spending on Your Vendors
Onboarding and verifying vendors, managing contracts, and staying within budget are a few components of the invoice to purchase process. It's difficult to accomplish these tasks and track your spending with a small business accounting application. However, automation offers significant value. Whether it's managing supplier payment terms, agreeing to settlement discounts, or negotiating better prices, automation helps you save money. And happy vendors are just as valuable as happy customers.
Solving Invoice to Purchase Process Challenges With Digital Transformation
Undergoing a digital transformation will make the invoice to purchase process much easier. And while it sounds overwhelming, digital transformation is simply making your business run better by creating new – or modifying existing – processes using technology.
Digital transformation occurs one small step at a time. Start by identifying your business's biggest pain point and finding technology that can simplify, streamline, automate, or integrate your processes to relieve it. Then move on to the next pain point.
Start Here
Digital transformation doesn't have to be complicated, expensive, or disruptive to your operations. To learn more about it and how it can overcome common invoice to purchase process challenges, visit the resource page below for blogs, customer success videos, on-demand webinars, demos, eBooks, and more.
Related Blog Posts
Top 5 Quoting and Sales Order Management Challenges - And How to Solve Them
Top 5 Inventory Fulfillment Challenges - And How to Solve Them
3 Common eCommerce Challenges - And How to Solve Them
Top 5 Finance and Accounting Challenges - And How to Solve Them
3 Common Bill of Materials Challenges - And How to Solve Them
3 Common Order Entry to Shipment Challenges - And How to Solve Them
3 Common EDI Challenges - And How to Solve Them
Top 5 Banking Integration Challenges - And How to Solve Them
3 Common Reporting Automation Challenges - And How to Solve Them