Aside from demanding customers, why is the order entry to shipment process so hard? Here are three of the most common challenges – and how to solve them.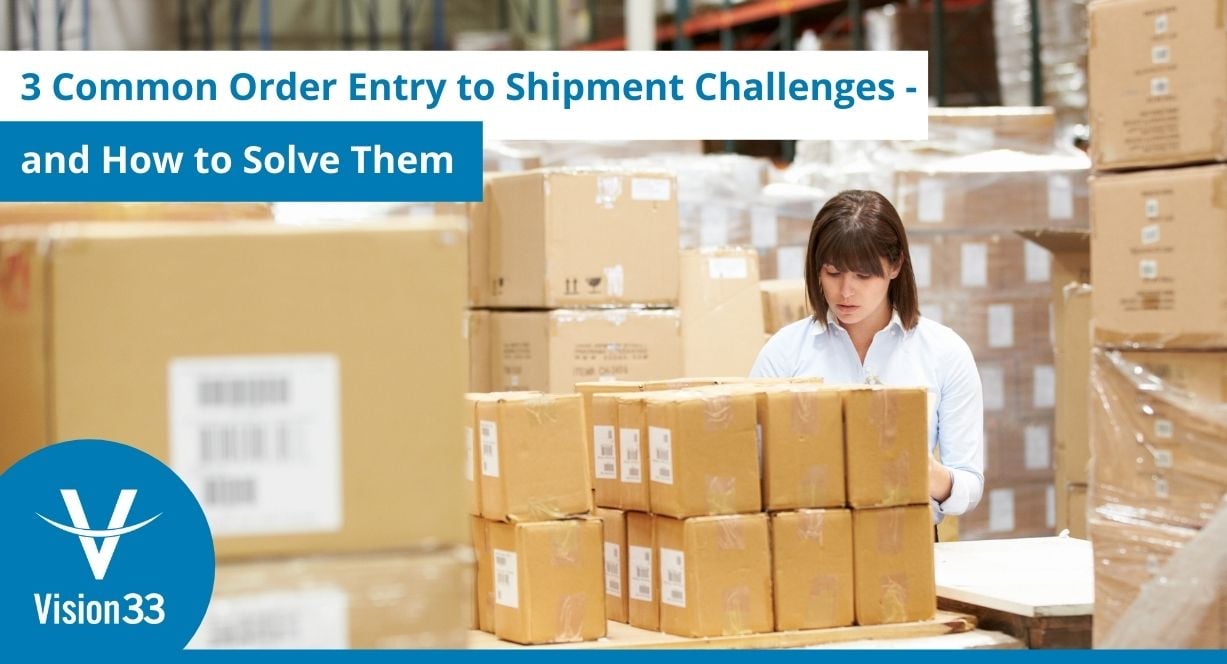 With so many complexities in the order management process, it's becoming increasingly difficult for distribution businesses to ensure fast fulfillment. Customers have high – and often unrealistic – expectations: They want to pay as little as possible, they want it yesterday, and they're unsympathetic about delays.
Aside from demanding customers, why is the order entry to shipment process so hard? Here are three of the most common challenges – and how to overcome them.
Competition With Online Giants
It's not easy for small and midsized distributors to compete with big-box retailers and fulfillment giants that can make same-day deliveries. However, the pandemic created an urgent need for eCommerce, and most businesses have moved online. This can be overwhelming for distributors used to doing business offline, especially since an eCommerce platform doesn't guarantee ease of use – tracking orders from placement through delivery can still be difficult and time-consuming.
Inadequate Systems and Processes
Small business accounting applications can't handle the complexities of distribution, and spreadsheets are dangerous workarounds that lead to expensive mistakes. And if you rely on manual processes like entering orders into an enterprise resource planning (ERP) solution, you're wasting time and likely making errors. Manually processing orders can cause costly issues, including pricing errors and incorrect deliveries. These mistakes require significant time and resources to resolve and result in returns and customer credits – money that comes out of your pocket.
Lack of Integration
Many distribution businesses have multiple order entry points, including some that are new since the pandemic. This means it takes longer to organize orders and get them out the door promptly. If you're using different systems (e.g., a warehouse management system and an ERP solution), those systems must talk to each other. Without that critical integration, you're constantly entering and re-entering information that exists somewhere else. You'd be better off spending that time growing your business and keeping your customers happy.
Solving Order Entry to Shipment Challenges With Digital Transformation
Undergoing a digital transformation will make the order entry to shipment process much easier. And while it sounds overwhelming, digital transformation is simply making your business run better by creating new – or modifying existing – processes using technology.
Digital transformation occurs one small step at a time. Start by identifying your business's biggest pain point and finding technology that can simplify, streamline, automate, or integrate your processes to relieve it. Then move on to the next pain point.
Start Here
Digital transformation doesn't have to be complicated, expensive, or disruptive to your operations. To learn more about it and how it can overcome common order entry to shipment challenges, visit the resource page below for blogs, customer success videos, on-demand webinars, demos, eBooks, and more.
Related Blog Posts
3 Common EDI Challenges - And How to Solve Them
Top 5 Banking Integration Challenges - And How to Solve Them
3 Common Reporting Automation Challenges - And How to Solve Them
3 Common Invoice to Purchase Process Challenges - And How to Solve Them
Top 5 Quoting and Sales Order Management Challenges - And How to Solve Them
Top 5 Inventory Fulfillment Challenges - And How to Solve Them
3 Common eCommerce Challenges - And How to Solve Them
Top 5 Finance and Accounting Challenges - And How to Solve Them
3 Common Bill of Materials Challenges - And How to Solve Them