When it comes to quotes and sales order management, small business accounting applications fall flat. Here are the top 5 challenges & how to overcome them.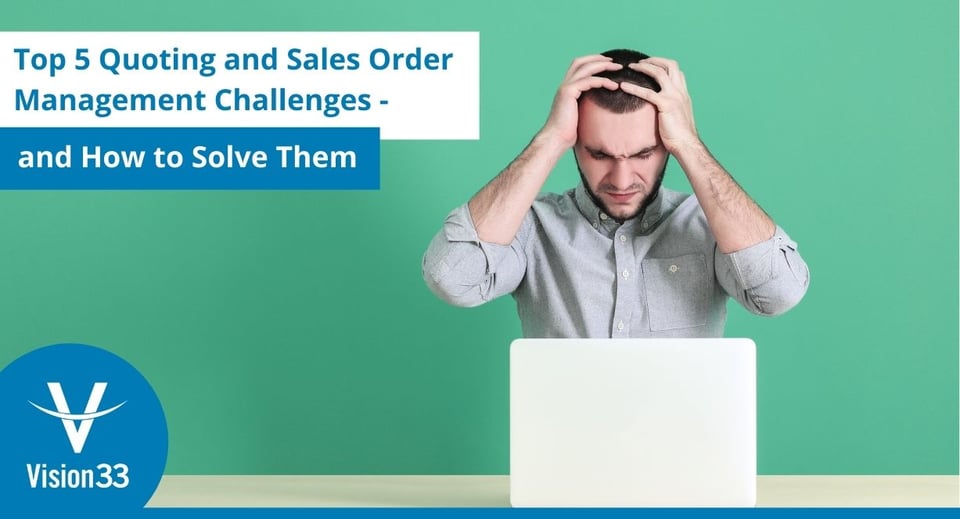 Without the right technology, quoting and managing sales orders can be huge headaches—and when it comes to quotes and sales orders, small business accounting applications fall flat. You need the proper tools and processes to keep up in today's fast-moving business environment.
Here are the top five quoting and sales order management challenges—and how to solve them.
Quoting Takes Forever
When a prospect requests a quote, they wanted it yesterday. Potential customers need you to resolve an issue or provide a vital product or service, and if you can't get a quote out the door fast enough, they'll take their business elsewhere.
You're Relying on Spreadsheets
Spreadsheets are dangerous workarounds in small business accounting applications. Keying data, copying, and pasting take too much time and cause mistakes. And if your price lists and terms and conditions live in Excel, things are getting lost in the shuffle.
Your Team is Out of the Loop
Outdated and inadequate technology can't provide real-time information and meaningful reports. It also can't offer a single, broad view of prospect and customer details. That means your team members are working with outdated information and customer service is taking a hit.
It's Difficult to Manage Sales Orders
If your small business accounting application forces you to manually process sales orders, you're running into costly issues, including pricing errors and incorrect deliveries. These mistakes require significant time and resources to resolve and result in returns and customer credits.
Everything is Disconnected
If your organization uses different systems, such as an enterprise resource planning (ERP) solution, customer relationship management (CRM) system, or eCommerce site, it's vital to connect them with an integration platform. Without that connection, you're constantly entering identical information into multiple places.
Solving Quoting and Sales Order Management Challenges With Digital Transformation
Undergoing a digital transformation will make quoting and sales order management much easier. And while it sounds overwhelming, digital transformation is simply making your business run better by creating new—or modifying existing—processes using technology.
Digital transformation occurs one small step at a time. Start by identifying your business's biggest pain point and finding technology that can simplify, streamline, automate, or integrate your processes to relieve it. Then move on to the next pain point.
Start Here
Digital transformation doesn't have to be complicated, expensive, or disruptive to your operations. To learn more about it and how it can overcome common quoting and sales order management challenges, visit the resource page below for blogs, customer success videos, on-demand webinars, demos, eBooks, and more.
Related Blog Posts
Top 5 Inventory Fulfillment Challenges - And How to Solve Them
3 Common eCommerce Challenges - And How to Solve Them
Top 5 Finance and Accounting Challenges - And How to Solve Them
3 Common Bill of Materials Challenges - And How to Solve Them
3 Common Order Entry to Shipment Challenges - And How to Solve Them
3 Common EDI Challenges - And How to Solve Them
Top 5 Banking Integration Challenges - And How to Solve Them
3 Common Reporting Automation Challenges - And How to Solve Them
3 Common Invoice to Purchase Process Challenges - And How to Solve Them