Why are banking tasks so difficult and time-consuming? Here are five of the most common banking integration challenges – and how to overcome them.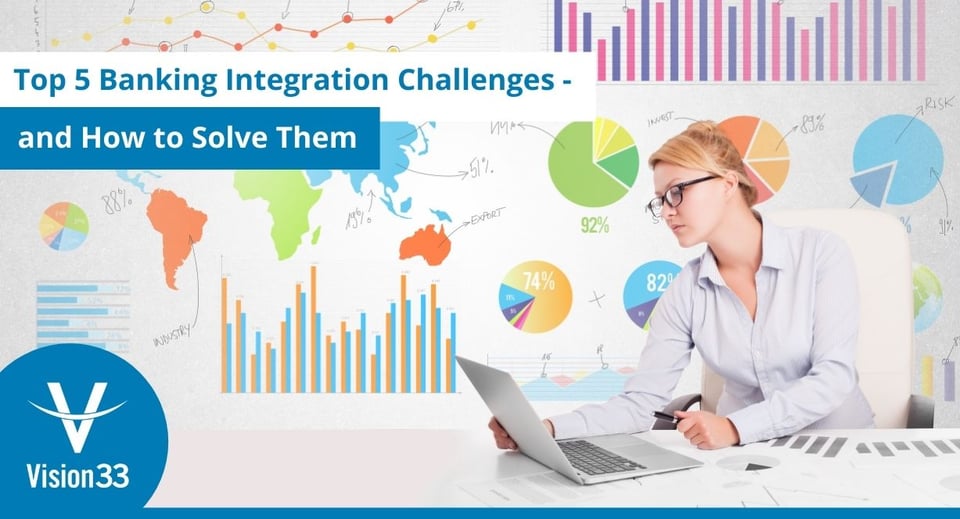 Your accounting and finance employees have many responsibilities. They deal with accounts payable, accounts receivable, expense approvals, cash management, and more – and they're working overtime to get it all done.
Why are banking tasks so difficult and time-consuming? Here are five of the most common challenges – and how to overcome them.
Manual Processes
Without automation, you're spending too much time on manual and paper-based processes. Small business accounting applications can't handle meaningful growth and increasingly complex banking functions. And if you're using spreadsheets as workarounds, copying and pasting is causing expensive mistakes.
Duplicate Data Entry
It's not easy to integrate small business accounting applications with your other mission-critical systems. And without that vital integration, you're constantly entering identical information into different applications, which leads to errors and wastes time – time that could be better spent on initiatives that bring value and revenue to your business.
Security Risks
On-premises systems and outdated software rarely allow you to designate who can access your business data. That means your bank accounts may be visible to everyone, which isn't ideal. If you have an unhappy employee or someone is leaving the company, it's impossible to keep your information safe.
Slow Payments
Consumers have multiple ways to pay bills on time, including paying online and having funds automatically withdrawn. However, these methods aren't standard in the business-to-business world, and the lack of a fast, easy payment option often means customers shift their B2B invoices to the bottom of the pile.
Difficulty With Tax Compliance
Tax compliance is complex, with varying rates and rules in every jurisdiction. Maybe you've recently launched an eCommerce site, and customers in multiple states are buying your products. How do you know where you're required to collect and remit sales tax? Without an automated tax compliance solution, it's easy to be noncompliant and vulnerable to an audit.
Solving Banking Integration Challenges With Digital Transformation
Undergoing a digital transformation will make banking integration much easier. And while it sounds overwhelming, digital transformation is simply making your business run better by creating new – or modifying existing – processes using technology.
Digital transformation occurs one small step at a time. Start by identifying your business's biggest pain point and finding technology that can simplify, streamline, automate, or integrate your processes to relieve it. Then move on to the next pain point.
Start Here
Digital transformation doesn't have to be complicated, expensive, or disruptive to your operations. To learn more about it and how it can overcome common banking integration challenges, visit the resource page below for blogs, customer success videos, on-demand webinars, demos, eBooks, and more.
Related Blog Posts
3 Common Reporting Automation Challenges - And How to Solve Them
3 Common Invoice to Purchase Process Challenges - And How to Solve Them
Top 5 Quoting and Sales Order Management Challenges - And How to Solve Them
Top 5 Inventory Fulfillment Challenges - And How to Solve Them
3 Common eCommerce Challenges - And How to Solve Them
Top 5 Finance and Accounting Challenges - And How to Solve Them
3 Common Bill of Materials Challenges - And How to Solve Them
3 Common Order Entry to Shipment Challenges - And How to Solve Them