In our permanently altered marketplace, get answers to important questions about digital transformation that are critical to achieving business success.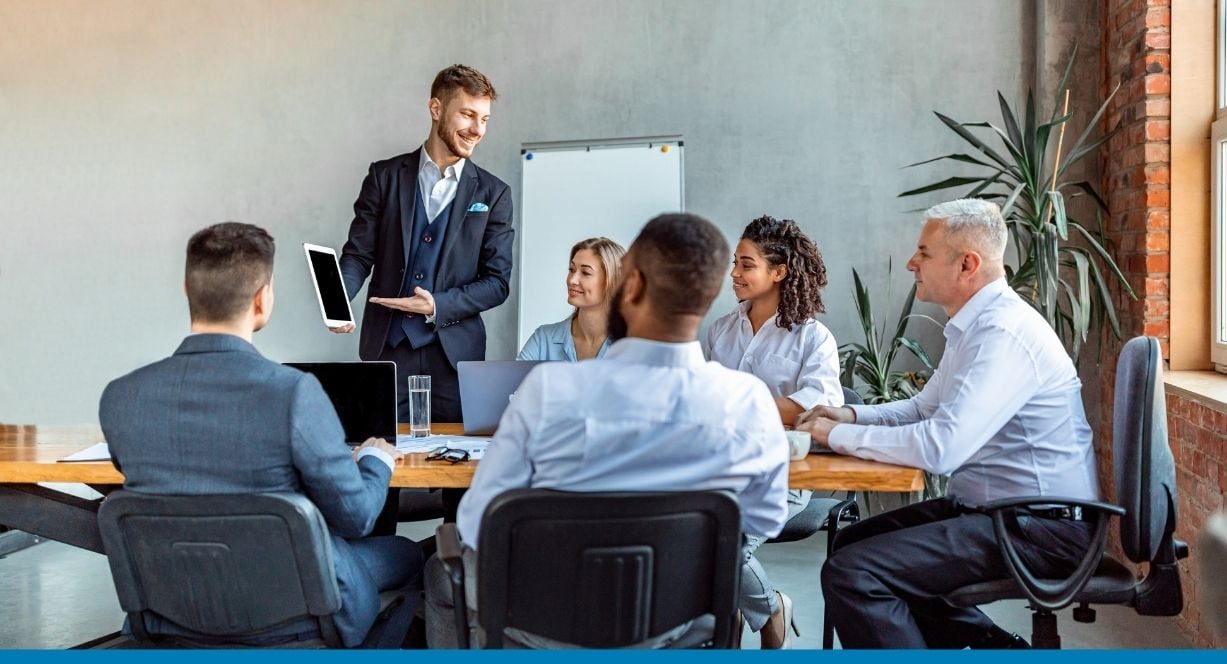 Are you fashionably late to the digital transformation party? Do you have one foot out the door while hoping the party gets canceled?
We get it. Common misconceptions about digital transformation are that it's overwhelming, unattainable, or just not worth the effort. These misconceptions often cause small and midsized business (SMB) owners to procrastinate going digital.
Here we highlight misconceptions and questions about digital transformation—and explain how you can challenge them to move forward.
Misconception: Digital Transformation Is Just About Technology
Ask two people what digital transformation means, and their answers will be drastically different. There are many definitions, but here's our favorite: Digital transformation is making your business run better by using technology to create new—or modify existing—business processes, culture, and customer experiences to meet changing business and market requirements.
But any shiny new technology you invest in—whether it's for integration, automation, cloud computing, or enterprise resource planning (ERP)—will be worthless if no one uses it.
People inherently dislike change, so get your team involved and on board from the get-go. Solicit their feedback about what makes their jobs difficult. Show them you value their opinions and work with them to find solutions.
For example:
An automation solution will eliminate the drudgery of manual, labor-intensive tasks like expense management, purchase to pay, and sales orders.
An integration platform will alleviate finger-cramping, repetitive data entry and allow your team to transfer data between applications at lightning speed.
An ERP solution will get your warehouse in order and products into your customers' hands faster.
As you formulate a plan, communicate early and often about the new technology's benefits. Your employees will feel better about using something new when they understand its value and how it will make life easier for them and your customers.
Will We Still Need IT Staff?
Yes. Your IT specialists will become an integral part of your digital transformation. Before you consider new technology, you must evaluate what you have—infrastructure, applications, databases, etc.—and no one understands better than your IT staff.
Even if you adopt cloud-based technology where a third-party vendor handles tasks like maintenance and security, your IT team becomes valuable in new ways. They can broaden their skillsets to manage your company's journey to the cloud.
For example, even though the cloud is secure, IT needs a firm grasp of concepts like cloud data lifecycle, cloud application security, vulnerabilities, and risks. They can also hone their query language skills. If you implement technology with user interfaces to easily retrieve and analyze information, knowing how to pull and manipulate large amounts of data using queries is helpful.
Will Regulators Approve?
Yes. In fact, businesses in heavily regulated industries like life sciences and food and beverage manufacturing will find that compliance is easier with the right technology. For example, an ERP solution with robust traceability features allows these businesses to track products forward and backward through a complex global supply chain. If there's a recall, companies have information about a product's origin at their fingertips to answer regulators' questions, protect their brand, and keep their customers' trust.
For another example, if you use technology that eliminates paper-based processes and your business gets audited, you can send digital documents to auditors. They appreciate it because they don't have to travel to your office, and you benefit by not having to make space for or interact with them.
Can Digital Transformation Wait?
No. Digital transformation is necessary to do business in our permanently altered marketplace. The global upheaval of the past two years taught us a valuable lesson: Businesses must be more resilient and adaptable. The eCommerce boom is just one example—businesses that didn't quickly pivot to online selling during the pandemic fell behind.
Don't sit back and wait to see what your competition does. Begin your digital transformation with one small step: identifying your business's biggest pain point and partnering with an expert to find technology to relieve it. Then, move on to the next pain point. One minor change can transform how you run your business.
Learn More
To learn more about digital transformation, visit the resource site below for blogs, customer success videos, on-demand webinars, demos, eBooks, and more.