Joe Lewis discusses FlenTek Solutions' shift to a cloud ERP solution, its benefits, and advice for other businesses considering the cloud. Listen now.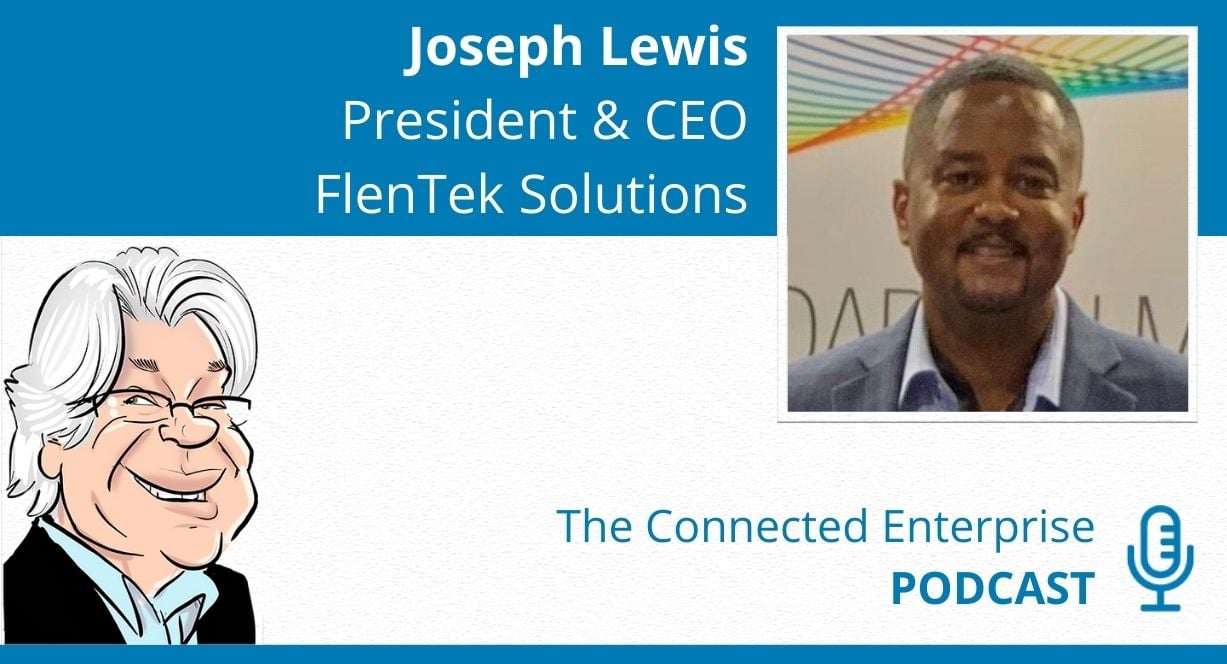 It's not every day that two Lewises are on The Connected Enterprise podcast. Host Carl Lewis recently sat down with Joe Lewis, president and CEO of FlenTek Solutions. FlenTek designs and manufactures motor controller systems for original equipment manufacturer (OEM) products, such as forklifts and industrial, electric, and autonomous vehicles. The company also sells color systems to businesses that test the colors of food, paint, and plastic.
Carl and Joe chatted about FlenTek's shift to a cloud-based enterprise resource planning (ERP) solution, its benefits, and advice for other businesses considering the cloud.
We're Spending How Much?!
Every year, Joe and his team gather to review the company's financials. A few years ago, they discovered an eye-popping figure: They were spending $12,000+ a year on IT support for their on-premises database. "I recall watching someone sitting and waiting on the phone to get answers from our IT consultant," Joe says. "At $200 an hour, I was pulling my hair out."
Joe believed he had control over his data because he could see his servers. "But I'm the one who had to load new software updates," he explains. "I realized if we went to the cloud, I wouldn't have to worry about that."
SAP Business One to the Rescue
FlenTek deployed SAP Business One, a powerful ERP solution, in the cloud. Adopting new technology isn't always easy, but after installing a dedicated fiber-optic high-speed line and undergoing a period of adjustment, FlenTek is now reaping the benefits of SAP Business One.
"Our people work all over the place, and SAP Business One allows everybody to be connected," Joe says. "And you know what's great? I can go on vacation but log on, look at my dashboard, and see how many sales orders have come through."
Joe also appreciates that SAP Business One allows him to grant access to specified employees. Before SAP Business One, everyone could find emails with sensitive information like salary discussions. "We definitely had to change that because there are certain things your employees don't need to know about," he says. "SAP Business One solves those problems, and it's seamless to set up authorizations."
Advice for Companies Considering Cloud ERP
If you're considering a cloud ERP solution, Joe recommends making sure your computers are up to speed. (As he says, "You can't make a turtle sprint.") "And talk to your IT people about how fast your internet is for uploading and downloading data," he advises.
Then, be prepared to save time and money. With cloud ERP, updates happen automatically in the background and don't disrupt your operations. You may also be able to slash your IT budget. "My old IT consultant keeps calling me to try to get my business back," Joe laughs. "That's a lot of business they lost, but I'm extremely happy I'm not paying them for that."
Listen to the Podcast
For more insights from Joe Lewis, including how SAP Business One was instrumental in FlenTek weathering the pandemic, listen to Vision33's The Connected Enterprise podcast. In each episode, host Carl Lewis interviews bright minds and industry thought leaders about enterprise technology and what's coming next.