Brandon Wilson discusses how owners can advance their business culture, protect themselves from sabotage, the effects of the pandemic, and more.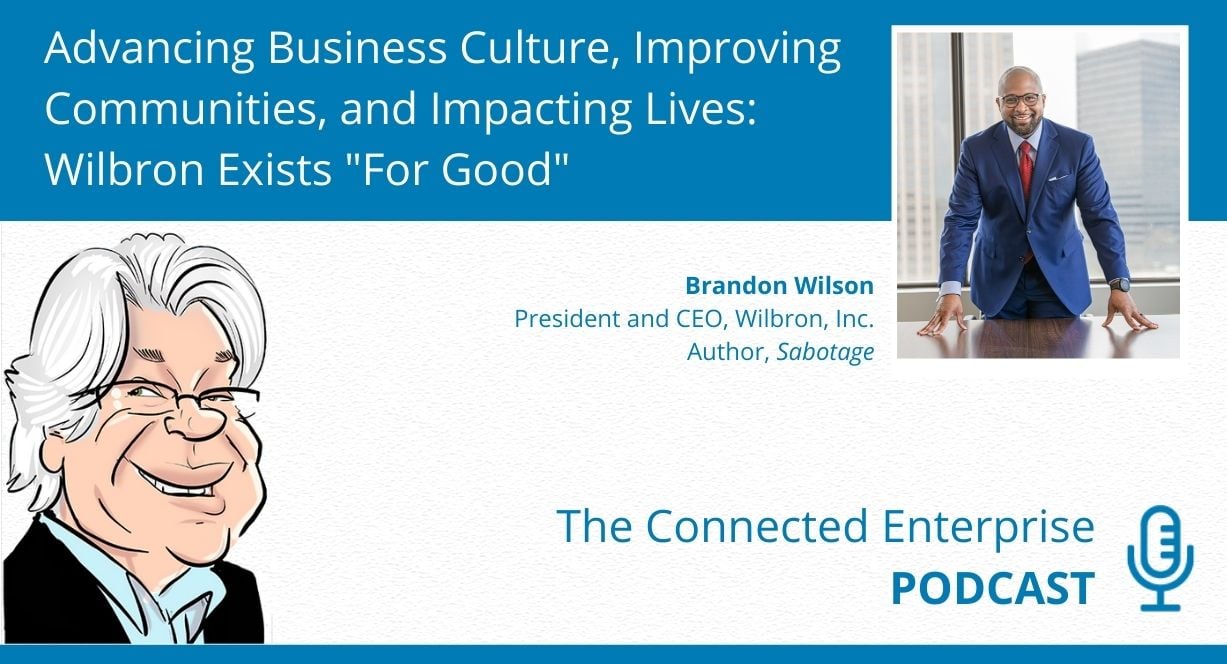 Award-winning communications strategist Brandon Wilson established his agency, Wilbron, in 2006. What began as a higher education think tank evolved into an organization that exists "for good"—its projects promote ethical business practices, advance communities, and uplift the human condition. As the president and CEO of Wilbron, Brandon helps leaders like CEOs and college presidents unlock their maximum potential.
While working with these leaders, Brandon discovered many were the victims of sabotage, which he defines as any act or force that seeks to limit, stop, or frustrate a leader on their way to doing something incredible. His book, Sabotage: Leadership That Overcomes Betrayal, Theft, and Deceit, was released in August 2021.
Brandon joined Connected Enterprise podcast host Carl Lewis to chat about how business owners can protect themselves from sabotage, how the pandemic has affected sabotage in business, and more.
Get Out of Your Own Way
Sabotage doesn't always come from someone else—sometimes, the cleverest saboteurs stare us in the face when we look in a mirror. A section of his book is dedicated to self-sabotage, including the fear of success.
In a personal story about self-sabotage, Brandon discusses his idea to develop grocery delivery technology that would enable moms to shop for other moms. He hired attorneys and consultants but ultimately second-guessed himself, deciding he was out of his depth and it would be easier to quit.
Then, someone who lived near Brandon had a similar idea—and he followed through with the plan, overcame the challenges, grew the company, and sold it for $550 million. Brandon hopes his story of surviving self-sabotage can help other people overcome their fears of success.
Become an Audacious Leader
Brandon advises doing two things to overcome sabotage. The first is to lead with integrity, which has a significant, positive impact on a culture where you may be surrounded by deceptive business practices.
The second is to cultivate a positive self-identity by overcoming negative opinions and feelings of self-doubt and seeing yourself as a fighter and a winner. Doing these two things will transform you into what Brandon calls an "audacious leader."
Listen to the Podcast
For more insights from Brandon Wilson, including the four horsemen of sabotage, listen to Vision33's Connected Enterprise podcast. In each episode, host Carl Lewis interviews bright minds and industry thought leaders about enterprise technology and what's coming next.