Cloud based HCM solutions streamline HR processes, improve communication, and reduce administrative tasks. Learn how one could benefit your business.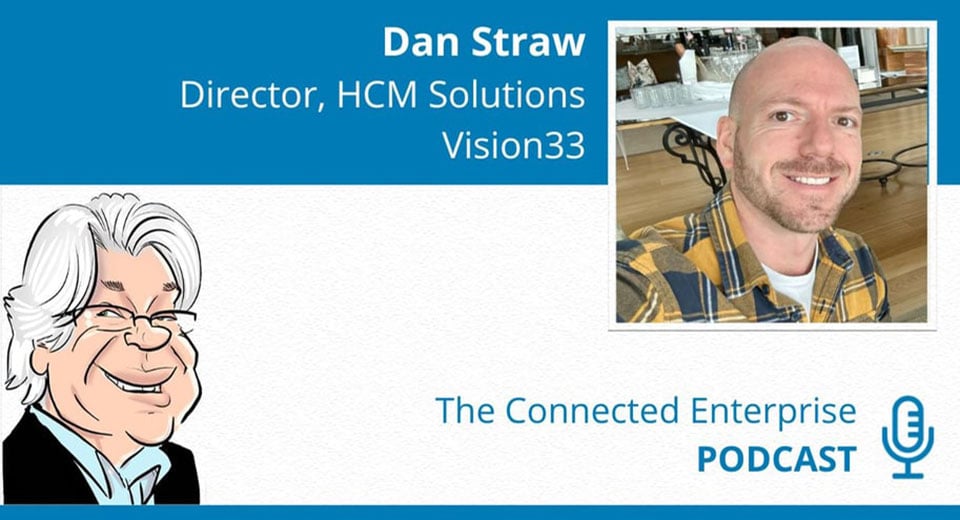 Dan Straw loves disrupting how businesses operate through the power of technology. As Vision33's director of human capital management (HCM) solutions, Dan specializes in technology that empowers small and midsized businesses to focus on what matters most: Getting things done.
"I'm passionate about how technology enables people to succeed," Dan says. "HCM solutions bring information together and help you analyze and understand it so you can make appropriate business decisions."
Dan joined Carl Lewis, host of The Connected Enterprise podcast, to chat about the benefits of HCM solutions for employers and employees.
What Is Human Capital Management?
A simple definition of HCM is hiring the right people, managing workforces effectively, and improving productivity.
Cloud-based HCM solutions streamline HR processes, improve communication, and reduce administrative tasks.
Benefits of HCM Solutions for Employers
HCM solutions automate tasks, including employee onboarding, payroll, time management, and benefits administration.
"Many businesses have two or three people whose jobs are just maintaining spreadsheets," Dan says. "That poses challenges because spreadsheets are only as up to date as the last update entered. And we've all heard horror stories of corrupt Excel files."
Automating core HR processes eliminates manual effort and error-prone spreadsheets and boosts efficiency.
HCM solutions also facilitate remote and hybrid work. Dan says there was a significant increase in businesses implementing HCM solutions during the pandemic because paper-based processes and whiteboards with vacation schedules weren't feasible during lockdowns.
"These businesses have seen the value of HCM solutions," Dan says. "And nobody has said, 'We don't need that anymore.' They've adapted their working models because they now have the tools that support remote or hybrid workforces."
Dan calls compliance a "less attractive" benefit of HCM solutions—but it's critical.
Organizations that deal with people and data must ensure they capture, handle, and report on data correctly.
"Often, it's sensitive data," Dan explains. "There's a huge compliance savings by getting it right and not being subject to fines or penalties."
Benefits of HCM Solutions for Employees
Once an organization has hired an employee, an HCM solution offers a digital platform where new hires can provide personal information, review policies and procedures, and get acquainted with their colleagues—before their first day.
"That takes away some of the anxiety people may have about going to a new place," Dan notes.
And once a new employee has started their job, an HCM solution helps with performance goals and provides visibility into how those goals align with management objectives and organizational strategy.
"Technology helps people drive their career and understand their development path," Dan says.
Examples of HCM Solutions
Dan highlights the cloud-based HCM solutions Vision33 offers: SAP SuccessFactors and BambooHR.
SAP SuccessFactors is a robust platform for core HR and payroll, talent management, employee experience management, and people analytics. Because it's modular, organizations can implement only what they need.
"A misconception about SAP SuccessFactors is that it's only for big businesses," Dan says. "That's not the case. It can work very well for small and midsized organizations."
BambooHR is an end-to-end platform that runs off the shelf and requires little implementation effort.
"BambooHR is great for organizations that don't have complex people requirements but need technology to manage people data, automate onboarding, etc."
SAP SuccessFactors and Bamboo HR are software as a service (SaaS) solutions that include maintenance upgrades in the subscription cost.
"What's reassuring is that the cloud provider handles security," Dan says. "Organizations can focus on looking after their people and delivering their business strategy instead."
Listen to the Podcast
For more insights from Dan Straw, listen to Vision33's The Connected Enterprise podcast. In each episode, host Carl Lewis interviews bright minds and industry thought leaders about enterprise technology and what's coming next.