Maria Tringali of Avalara explains how automated tax compliance is an ideal solution for businesses. Learn more about nexus, use tax, audits, and more.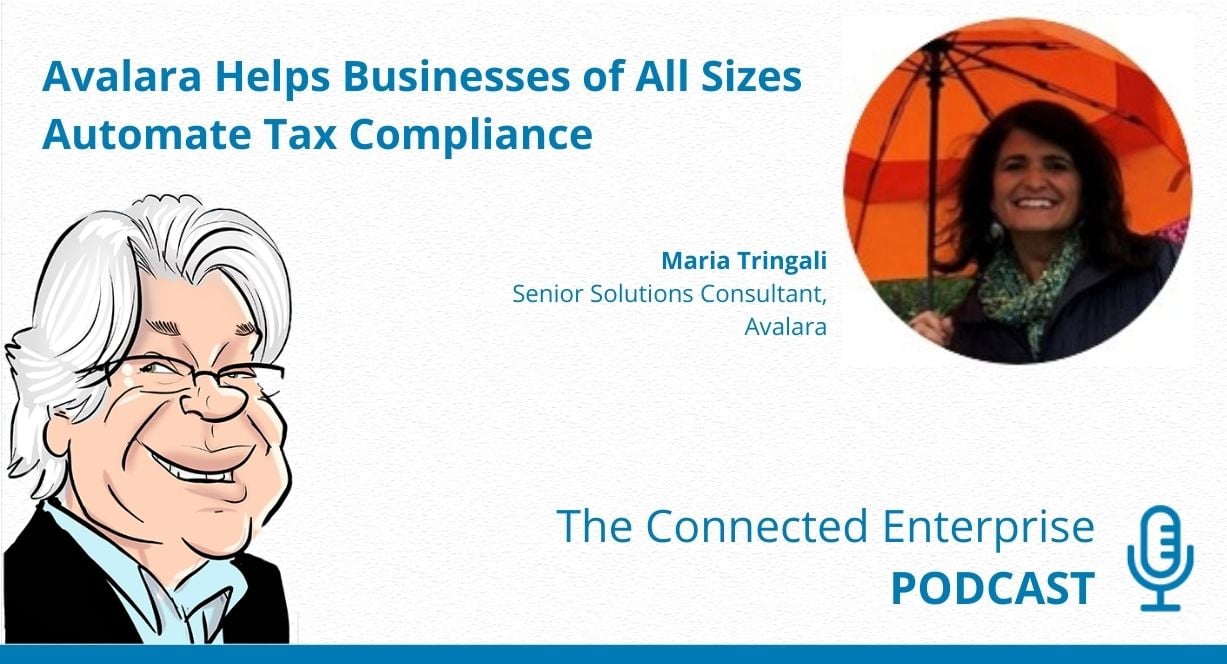 Maria Tringali is always delighted to talk about taxes. She's a Senior Solutions Consultant for Avalara, a global company that helps businesses of all sizes automate sales tax compliance.
Maria recently joined Connected Enterprise podcast host Carl Lewis to chat about how businesses have changed their operations since the onset of the pandemic, nexus, exemptions, audits, use tax, and more.
Here are some takeaways from their discussion.
What 'Nexus' Means and When It's Required
Nexus is the requirement to collect and remit sales tax or collect exemption certificates in a state based on your business activities. With the recent acceleration of eCommerce, many businesses are selling to customers in states where they previously didn't have nexus. It's critical for those businesses to understand they now need to collect sales tax in those states and manage certificates for charging that tax. Complicating matters is that each state has different tax rates and taxes products and services differently. Sales tax automation ensures businesses remain compliant and won't find themselves in an audit scenario.
Compliance Across All Your Channels
It's easier than ever for businesses to sell products simultaneously in retails stores, on websites, through Amazon, and via partner sites. Many companies have multiple websites, such as business-to-consumer (B2C), business-to-business (B2B), and a site for distributors. This omni-channel presence requires tax compliance across all platforms. It's a significant challenge, but automation is an ideal solution.
A Short Course on Use Tax
Unlike sales tax, use tax is subjective. Someone in business buys something and gives the vendor an exemption certificate because they don't want to pay tax on any, or most, of the order. The buyer doesn't remit the tax on the product until it's used. Maria cites a large construction company working on projects in multiple states. That company needs to know the use tax laws and the rates of the products and services used on each site, and how to tax them after purchase. Although automation is a little more difficult with use tax and requires some human intervention to ensure compliance, it's still the ideal solution.
Listen to the Podcast
For more insights from Maria Tringali, listen to Vision33's Connected Enterprise podcast. Each week, host Carl Lewis interviews bright minds and industry thought leaders about enterprise technology and what's coming next.