Chuck Wachendorfer from think2perform joined Carl Lewis from The Connected Enterprise podcast to chat about eight essentials to hone leadership skills. Learn more.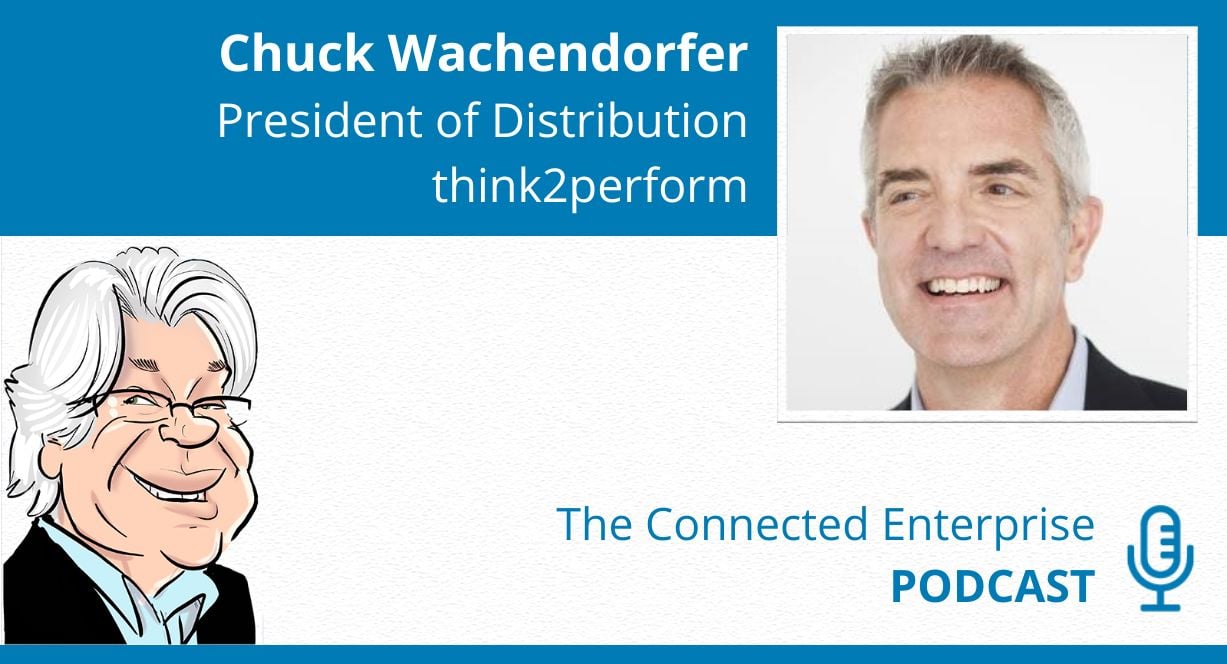 Speaker, author, and executive coach Chuck Wachendorfer says we make 35,000 decisions a day. Most don't require thinking—for example, how we prepare our coffee.
However, 60% of our daily choices are conscious decisions. As Chuck explains, one or two better choices a day equal hundreds of better decisions a year.
Chuck is immersed in decisions—not just his own, but those of medical professionals, financial advisors, college and professional athletes, executives, business owners, and more. He's the president of distribution and an executive coach at think2perform, a company that offers solutions to enhance the decision-making skills and performance of individuals and organizations.
Chuck joined Carl Lewis, host of The Connected Enterprise podcast, to chat about eight essentials to hone leadership skills.
An Epiphany
Chuck's path to a decision-oriented career began when he left the engineering field to become a financial advisor.
"It was a 100% commission job," he explains. "At one point, I found myself with no money, no food, and no credit."
He considered quitting, then realized there were people in his office making good money.
"The job wasn't the problem," Chuck says. "That was an epiphany. It was me and the choices I was making. That began this journey of examining my decision-making and how I was spending my time."
Fast forward to 2023, and Chuck has been at the helm of think2perform for almost 20 years.
A Decision-Making Toolkit
Published in April 2023, Don't Wait for Someone Else to Fix It was co-authored by Chuck and his friend Doug Lennick.
Chuck and Doug believe that in our current climate of change and uncertainty, positive and inspiring leadership is more critical than ever. The 256-page book offers eight essentials to enhance leadership impact in professional and domestic settings.
"It's a toolkit," Chuck says. "We wanted it to be a book people use. There are exercises at the end of each chapter. It's a call to action."
Spoiler Alert
Chuck outlined the eight essentials for Carl. Here's what he says about them:
Identify your ideal self. "That's knowing your values. You can use them to guide your decision-making."
Know your real self. "If you want to change your behavior or become a better decision-maker, you need self-awareness."
Act with integrity and responsibility. "When you do that, you inspire others and build trust."
Be empathetic and compassionate. "Sometimes, people get uncomfortable and anxious. If you don't recognize that, you can't help them get unstuck."
Decide wisely. "We call it the four Rs—recognize, reflect, reframe, and respond."
Learn agilely. "To take advantage of change, you need to let go of what you know."
Achieve purposeful goals. "What matters in goal achievement—not just goal-setting—is knowing what you must do."
Empower others. "That's how you develop other people to make decisions consistent with where you want to take your organization or your family."
Listen to the Podcast
For more insights from Chuck Wachendorfer, listen to Vision33's The Connected Enterprise podcast. In each episode, host Carl Lewis interviews bright minds and industry thought leaders about enterprise technology and what's coming next.