Carl Lewis and VerifyMe's Paul Vitale discuss the widespread counterfeiting problem and how innovative technology can help businesses protect their brands.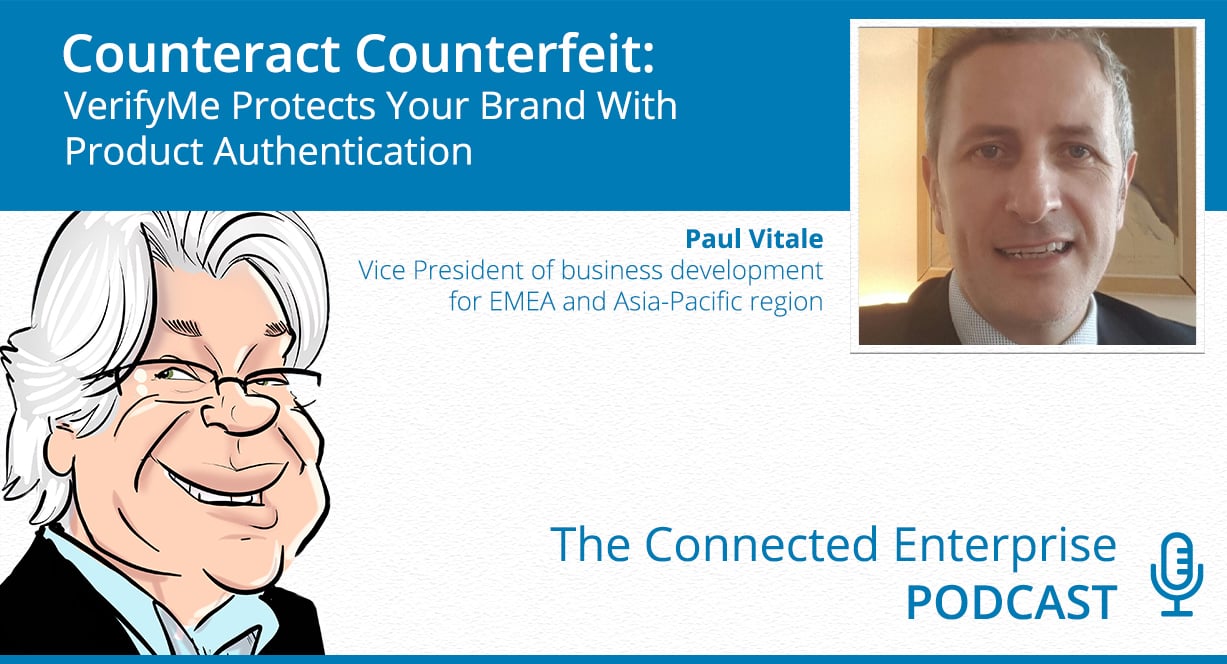 Counterfeiting is the sixth-largest economy in the world, and although flashy footwear and designer handbags probably come to mind when you think of counterfeit products, the issue is widespread. Other commonly counterfeited products include pharmaceuticals, cosmetics, personal protective equipment (PPE,) food, and beverages.
Vision33's Carl Lewis interviewed Paul Vitale of VerifyMe, Inc. on the Connected Enterprise Podcast. Based in Rochester, NY, VerifyMe is a global technology solutions company that delivers brand protection products that mitigate counterfeiting, product diversion, and illicit trade.
Carl and Paul discussed the counterfeiting problem and how innovative technology can help businesses protect their brands.
A Layered Approach to Brand Protection and Product Authentication
Some businesses merely need serialization or track and trace technology to protect themselves from counterfeiting, which can be as simple as implementing unique QR codes that raise alerts if scanned where they don't belong.
A more complex layer of protection involves marking packages with invisible inks and pigments that fluoresce at a specific wavelength and are readable by Bluetooth-enabled scanners on mobile phones. The robust ink can withstand the entire production process, including high temperatures, high pressure, varnishes, and lacquers. Many drink manufacturers use this technology on wine and spirit bottles.
A final protective measure is an invisible mark that contains information about numerous parameters, depending on how a business tracks its supply chain. When scanned, the mark reveals when and where a product was manufactured, where it was transported, and where it should be sold.
Customer Engagement Opportunities
Businesses that implement these anti-counterfeiting measures also create new ways to communicate with customers. When buyers scan the code, two critical things happen: the authenticity of the product is verified, and businesses can continue to market to those consumers.
For example, a scanned code can provide more product information and offer suggestions for similar items via links to websites and videos. The customer can give product feedback and participate in two-way communication with the business they purchased from.
No Need to Overhaul Existing Processes
Some businesses have longstanding agreements with packaging and printing companies or existing serialization. These businesses may not want to alter their packaging or overhaul those processes. However, they can get an extra layer of authentication by adding tamper-evident labels to packaging. The label shows the package hasn't been tampered with, and, after purchase, the consumer removes the label and scans its serial number to ensure it matches the serial number on the package.
For more insights from Paul Vitale, including how VerifyMe is continually developing products to combat counterfeiting, listen to Vision33's Connected Enterprise Podcast. Each week, host Carl Lewis interviews bright minds and industry thought leaders about enterprise technology and what's coming next.