A discussion about why sales is about serving others, how selling has changed over the past year and a half, and what the future of selling looks like.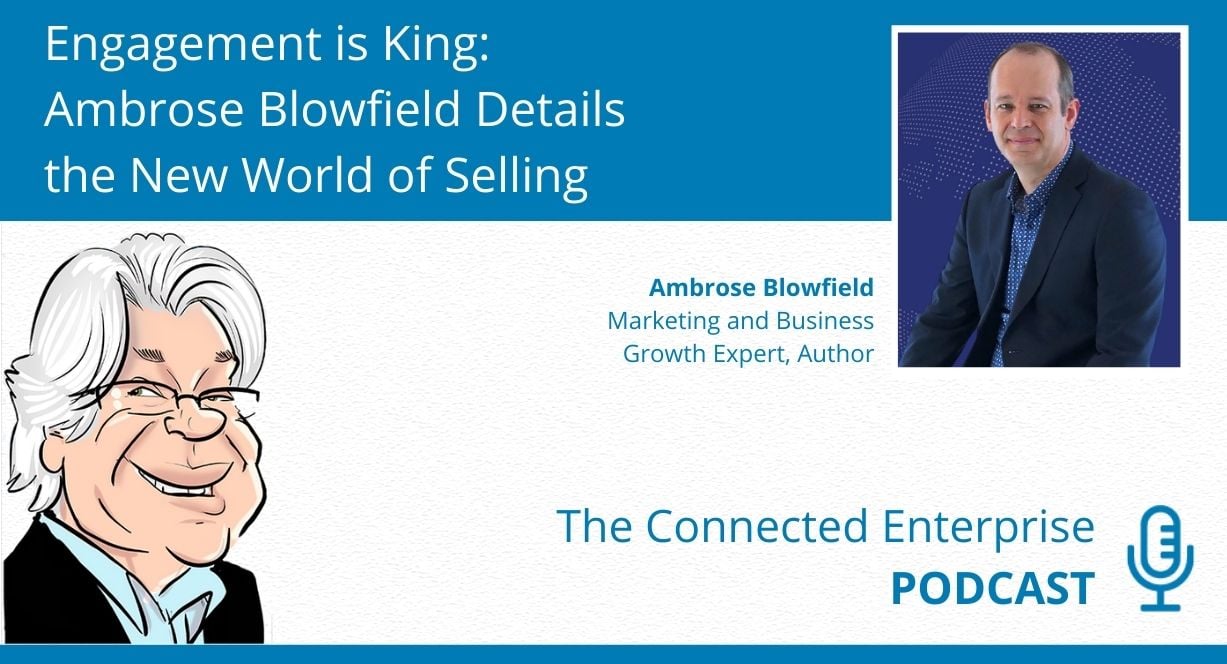 After enjoying a successful career in Proctor and Gamble's sales division, Ambrose Blowfield became one of Australia's leading trainers and speakers in sales, marketing, and business growth. He has delivered in-person training to companies of all sizes in 10 countries, and his online training has helped over 15,000 businesses in 20 countries earn over $2 billion in additional sales. His first book, The Authority Guide to Writing and Implementing a Marketing Plan, was published in 2017.
Ambrose joined Connected Enterprise podcast host Carl Lewis to chat about why engagement is king, why sales is about serving others, how selling has changed over the past year and a half, and what the future of selling looks like.
What's the Magic Word?
The pandemic has been a harsh blow for salespeople. Meetings with prospects and customers have shifted to online platforms, where it's harder to establish rapport. However, salespeople can still take full advantage of online meetings. The magic word, according to Ambrose, is engagement.
Sales is about serving others. As a salesperson, you're excited about what you have to say—but the prospect isn't. They're eager to voice their own thoughts and concerns, so get them talking by asking a lot of questions. Keep them engaged by shutting out outside distractions; the meeting you're in is the only thing that matters.
Personality vs. Process
When contemplating what's more important—a salesperson's personality or the process they follow—Ambrose says it's the process. Some of the most successful salespeople he's met and trained are highly introverted and technical, but their process is foolproof. These atypical salespeople are good because they 'shut up to sell' (the title of Ambrose's upcoming book).
Different personalities use the process differently. Extroverted, hard-nosed salespeople need the process to keep themselves in check and slow down. Introverted types crave the process because it makes them more confident.
Overcoming the Discount Mentality
With the rapid acceleration of eCommerce, many small and midsized business owners feel they need to offer discounts to compete with big-box stores like Walmart and Amazon. There's a mentality of who can sell products the cheapest and claim the biggest market share.
But most of the best-selling brands in the world aren't the cheapest. Coca-Cola, for example—there's always a less expensive store brand, but Coca-Cola sells more despite its higher price. Offering something at a deep discount doesn't guarantee high volume, so instead of discounting your products and services, Ambrose emphasizes a strategy of adding value to relationships. This is a mental shift that may be difficult for some salespeople, but it will win you loyal, long-term customers.
Listen to the Podcast
For more insights from Ambrose Blowfield, including what a sales career will look like over the next five to ten years, listen to Vision33's Connected Enterprise podcast. Each week, host Carl Lewis interviews bright minds and industry thought leaders about enterprise technology and what's coming next.