Business data, optimized process workflows, and centralized data; here's what SAP has to say about experience management and the Intelligent Enterprise.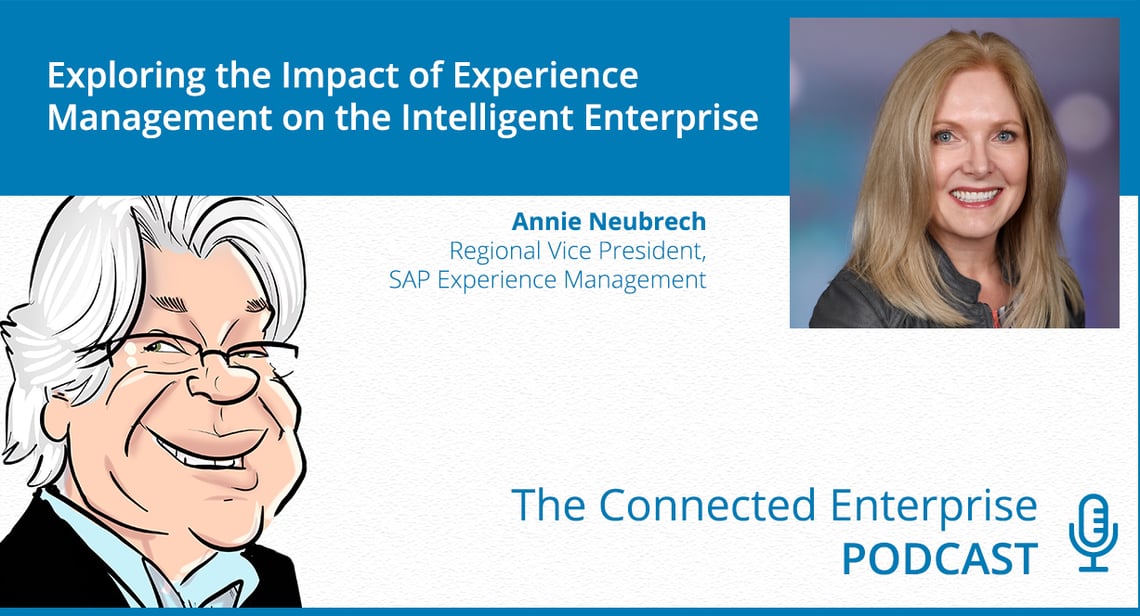 In a recent episode of the Connected Enterprise Podcast, Vision33 host, Carl Lewis, spoke with Annie Neubrech, Regional Vice President, SAP Experience Management on the topic of experience management. Following SAP's acquisition of Qualtrics, a global pioneer of the experience management (XM) software category that enables organizations to thrive in today's experience economy, Neubrech joined the experience management SWAT team to integrate Qualtrics into SAP.
About Guest Speaker, Annie Neubrech
Neubrech is known for transparent leadership and inspiring diverse cross-functional teams to use innovative thinking to solve complex problems that have an immediate impact and sustainable results; this made her the perfect person to help meld the two companies.
In the past, SAP had been focused and quite successful at centralizing business systems using enterprise resource planning solutions. Under the new moniker of intelligent enterprise, the focus on business data, the addition of optimized business process workflows, and centralized data are easily shareable throughout an organization. But equally important to the answer of 'what is going on' in your company, is the answer to the question 'why.'
That's where SAP's acquisition of Qualtrics comes into play. By merging operational and experience data for meaningful business outcomes, businesses get answers immediately rather than a year later.
Experience Management is Even More Important in the Next Normal
When asked about the importance of experience management today, Neubrech points out that it has never been more critical.
"…we assumed the biggest challenge would be people with children at home – juggling work, their kids' Zoom calls with teachers, noise in the background, and other disruptions. But by listening to our employees' experiences, we learned that the people struggling most are those who live alone," says Neubrech.
From a human resources perspective, communication and maintaining contact with employees required a new approach. To that end, SAP and Qualtrics allowed free use of software during this pandemic to help businesses overcome these challenges through experience management.
Learn More about Experience Management
To learn more about experience management and the enterprise technologies that businesses like Amazon are leveraging to great effect, listen to the full Connected Enterprise podcast today.