A discussion about joining an organization during a global pandemic, how it affected business operations, and future-proof solutions. Learn more.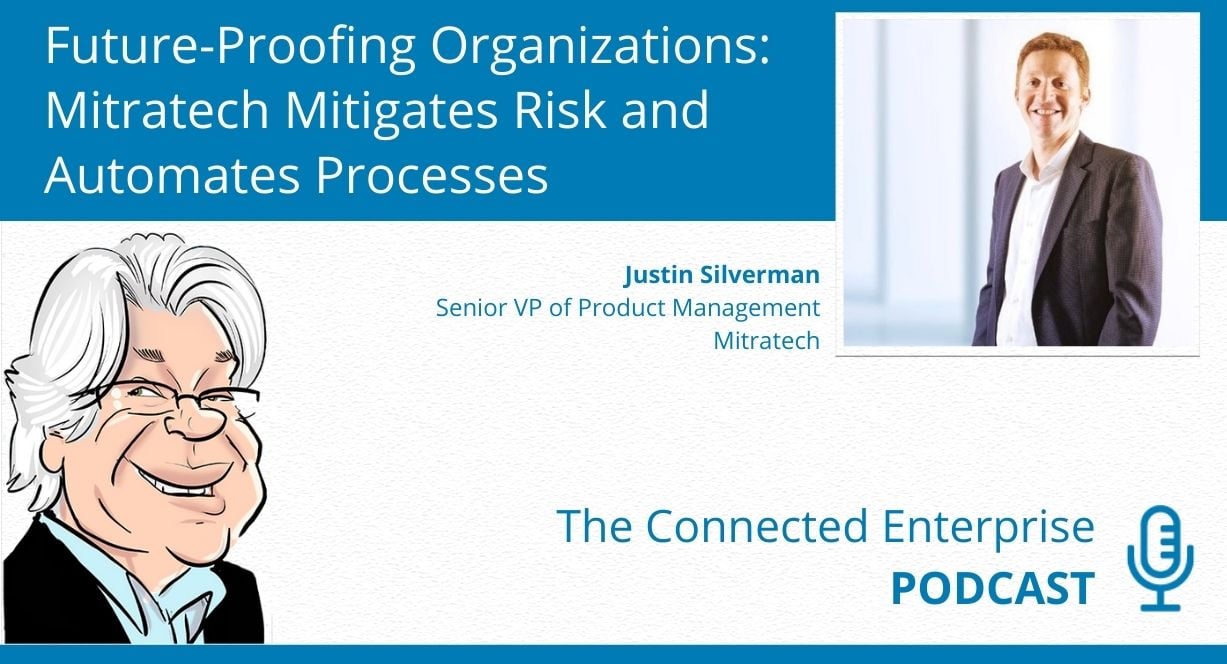 Justin Silverman spent 20 years in strategy and product management roles related to enterprise software. He recently joined Mitratech, one of the world's leading providers of software that helps automate manual processes. He leads the product management team to drive the innovation, strong platform integration, and streamlined user experiences that bring differentiated value to Mitratech's customers.
Justin joined Connected Enterprise podcast host Carl Lewis to chat about what it was like to join an organization during a global pandemic, how it affected business operations, and its ongoing effects on business processes.
Digital Onboarding
Justin's onboarding at Mitratech was in stark contrast to his previous job, where he traveled to every office location to meet his colleagues, join meetings, and enjoy dinners together. At Mitratech, the paperwork and formalities were digital. Without the travel, he had more time on his hands—but still wanted to get to know his coworkers. Since it wasn't possible to shake hands, he built rapport over Zoom.
Shifting Focus
When the pandemic struck, Mitratech had to pivot, implement new technology, and change its perspective. The company focused on supporting employees, retaining staff, and hiring new talent. Employees were given the flexibility to work where and when they wanted and tools to stay productive. Justin gave an example of folks starting early to work with colleagues in other countries, then enjoying a sunny, mid-afternoon bike ride before finishing for the day. Mitratech believes it's not about where you are or when you do your work—it's about what you accomplish and your impact on the organization. Justin—who lives in Denver, CO—especially appreciates this sentiment, as Mitratech is headquartered in Dallas, TX.
Mitratech has also added wellness days to provide its team with paid time off to disconnect and instituted "no meeting" days to avoid Zoom burnout.
Technology Tools for Customers
Justin cites several examples of how the tools Mitratech builds help its customers adapt to and do business in our new normal. The first, TAP, drives and automates workflows, forms, and analytics so customers can see the big picture of what's happening in their businesses. Many are using it to guide their COVID vaccination requirements.
The other, Tracker I-9, is beneficial for human resources departments. It digitizes the process of completing an I-9 form, providing information from a driver's license or passport, and other critical functions when welcoming a new team member in the United States.
Listen to the Podcast
For more insights from Justin Silverman, including his take on what the future workplace will look like, listen to Vision33's Connected Enterprise podcast. In each episode, host Carl Lewis interviews bright minds and industry thought leaders about enterprise technology and what's coming next.