The foundation of technology infrastructure is being rethought and reinvested in to allow businesses to move forward with their digital transformations.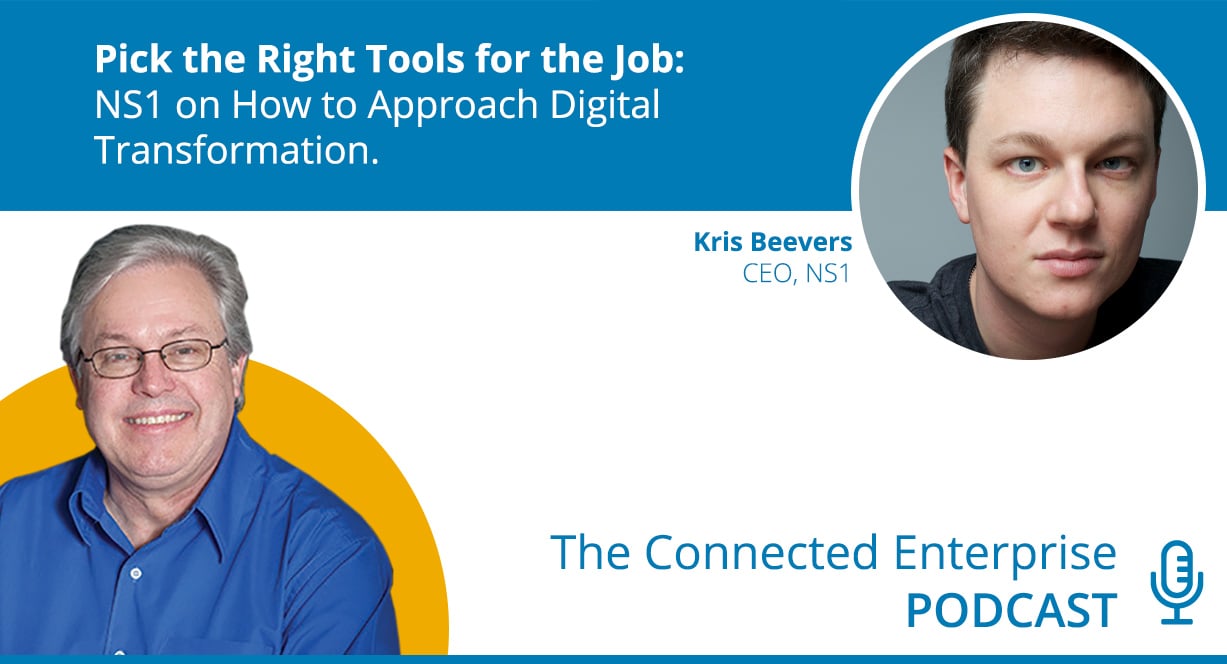 Kris Beevers loves talking tech. He's the CEO of NS1, which provides DNS and DDI services to businesses like LinkedIn, Dropbox, and Salesforce. Every business has a set of applications that perform critical functions using diverse infrastructure; NS1 specializes in making those applications smarter, more secure, and more efficient.
Kris recently chatted with Vision33's Carl Lewis on the Connected Enterprise Podcast about the acceleration of digital transformation, shifting priorities for improved user experiences, and reevaluating foundational infrastructures.
Necessity Is the Mother of Invention
As Kris and Carl noted, businesses everywhere have accelerated their digital transformation journeys because of the pandemic, including huge investments in eCommerce to accommodate lock-down regulations.
Another noteworthy digital transformation step for many businesses is moving at least part of their operations to the cloud. Cloud automation and scalability make businesses more resilient to rapidly shifting conditions and better prepare them for unexpected events.
Overall, businesses are shifting their investment strategies, infrastructure, and resources to meet new demands and improve user experiences.
Infrastructure Challenges
Challenges arise when businesses are held back by the underlying foundational infrastructure that operates their baseline components. An NS1 survey found that 80% of companies with digital transformation goals lack the infrastructure to meet those goals.
Why? Because businesses rarely think about investing in the domain systems that have been around for decades. The same applies to a business's IP address, which is rarely considered an interesting place to make a foundational technology investment.
However, since almost all transformational investments depend on that underlying infrastructure and network, it's imperative to consider how the infrastructure works in light of change.
Reevaluating and Rebuilding Foundations
The foundation of technology infrastructure is being rethought and reinvested in to allow businesses to move forward with their digital transformations.
As Kris explains, you can only rebuild a house on top of a centuries-old foundation so many times – eventually, you have to rebuild the foundation to allow for new heights and modern design.
Businesses reevaluating their foundational infrastructures should determine if investments are possible in areas that can leverage how the world now works.
The Emergence of DevOps
"DevOps" is the combination of software development and the operations of a business's underlying infrastructure. Many companies experiencing rapid change and moving to the cloud are adopting this methodology.
It starts with contemplating the interaction between infrastructure and an application's code and considering how they work together to meet customer needs. The goal is a simple, snappy user experience when interacting with an application, regardless of the conditions.
As Kris explains, DevOps is a new approach, and any business can get there with some simple and straightforward investments.
One Step at a Time
Digital transformation seems overwhelming, but small steps make it manageable. For example, you don't move everything to the cloud all at once. Instead, you apply cloud technologies where they're appropriate. It's all about finding the right tool for the job.
As Kris explains, that's where businesses will find a competitive advantage.
For more insights from NS1's Kris Beevers, including what some of the largest companies in the world see as the next big things in technology, listen to Vision33's Connected Enterprise Podcast. Each week, host Carl Lewis interviews bright minds and industry thought leaders about enterprise technology and what's coming next.