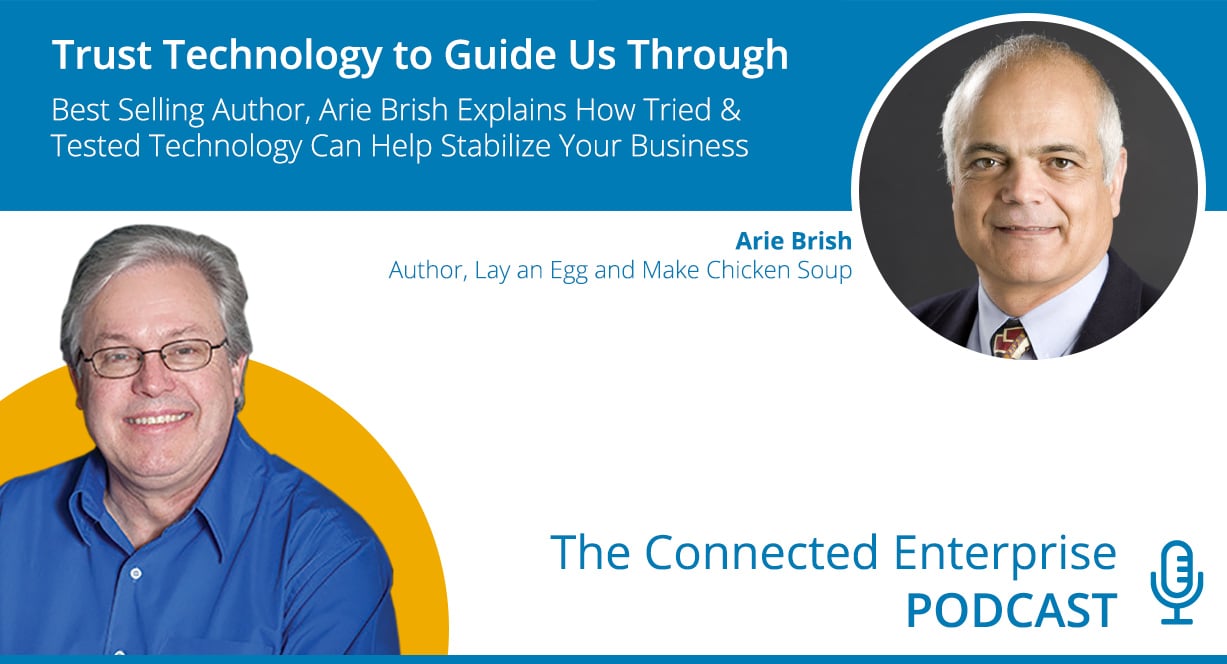 Arie Brish is an author, businessman, teacher - and recently joined host Carl Lewis as a guest on The Connected Enterprise podcast. Arie grew his career in the high-tech industry, specifically working in areas of networking and supply chain. In recent years, he decided to take the wealth of knowledge acquired throughout his career and share it with young entrepreneurs as a mentor.

Inspired by their passion and wonderfully innovative ideas, Arie helps his mentees avoid the common hurdles that derail entrepreneurs from reaching success. It's these proverbial land mines that cause new businesses to stop in their tracks.

Arie began documenting his advice in his blog, and eventually transformed his collection of posts into a best-selling book titled, 'Lay an Egg and Make Chicken Soup'. In this episode of the podcast, Arie explains how the messages in his book can be applied to help businesses stay afloat in this uncertain time.

Trusting your technology and adapting your business model are what Arie Brish identifies as the two best ways to secure your business in this uncertain time.

Arie reminds us that the idea of working remotely isn't a new concept. The technology that allows us to do so has existed for 15-20 years now.

If the same crisis happened 30 years ago, back then the technology did not exist. Today, that technology exists. It's just a matter of people or businesses allowing themselves to take advantage of this technology.
If you divide the workforce into three categories, you can better understand their openness or lack-there-of to the concept. Arie divides everyone into three camps:


Those familiar with working from home.

These are the one who frequently work remotely, either by preference or circumstance. In respect to being productive outside the four walls of the office - these people already have things figured out.
Those prevented by regulations.

In this group, you'll find people who are bound to their place of employment by strict regulations, such as those in the medical field. Or at least up until now.

Those who, by nature of their business or health, cannot telecommute.

People employed by restaurants, construction companies simply can not conduct business from their home. Of course, this is also changing.
With the current state of the world, employers and employees alike in each of these categories need to adapt to a new way of doing things. Although the technology that allows us to do so isn't new, for many, the practice will be. For some businesses, this will be easier than for others. You may have seen some of your favorite local restaurants quickly pivoting to offer pick-up and delivery services. That's just one example of how industries are adapting to the new normal. But Arie can easily list off more industries that have adapted to a remote working environment.

He tells of court cases being conducted over conference calls. This sounds odd – right? But it actually presents a huge advantage for everyone involved. By hiding people behind the phone line, judges can judge based solely on the facts presented and not be affected by the way a person presents themselves, body language, or any other physical bias.

As we shift to a mobile workforce, many employers will struggle with trusting that their team and their technology will hold up their end of the agreement. But surely, if we're reached a place where courtrooms can be replaced with conference calls – at least for litigation – then it makes you wonder, what else can we do remotely?

The technology is there and has been for a while. If this sort of crisis happened 30 years ago, we'd be writing a different story. But the technology exists and it's not new. And now more than ever, we need to lean on that technology to carry us through.

Aside from operations, business have valuable customer relationships to maintain. Whether it be through phone calls or emails, you need to make sure your customer knows that you're still there to support them. And if you're not, they need to know that too. It's better to let your customer know that their shipment will be delayed for whatever reason than not to say anything at all.

This isn't a scenario that even the best risk mitigation plans could have accounted for. Yes, we've faced challenges before – September 11th and the recession of 2008. And we'll come out of this too. But your business model will likely look a little different on the other side. What's clear from this interview with Arie Brish is that the technology we need to overcome is there. We just need to lean into it.

For more valuable tips from best-selling author Arie Brish, check out this interview with host Carl Lewis on The Connected Enterprise podcast. His book, Lay an Egg and Make Chicken Soup, is available on Amazon.