Jonathan Chin is the co-founder of Facteus, the largest alternative data provider worldwide. He joined Carl Lewis to chat about the emerging DaaS market.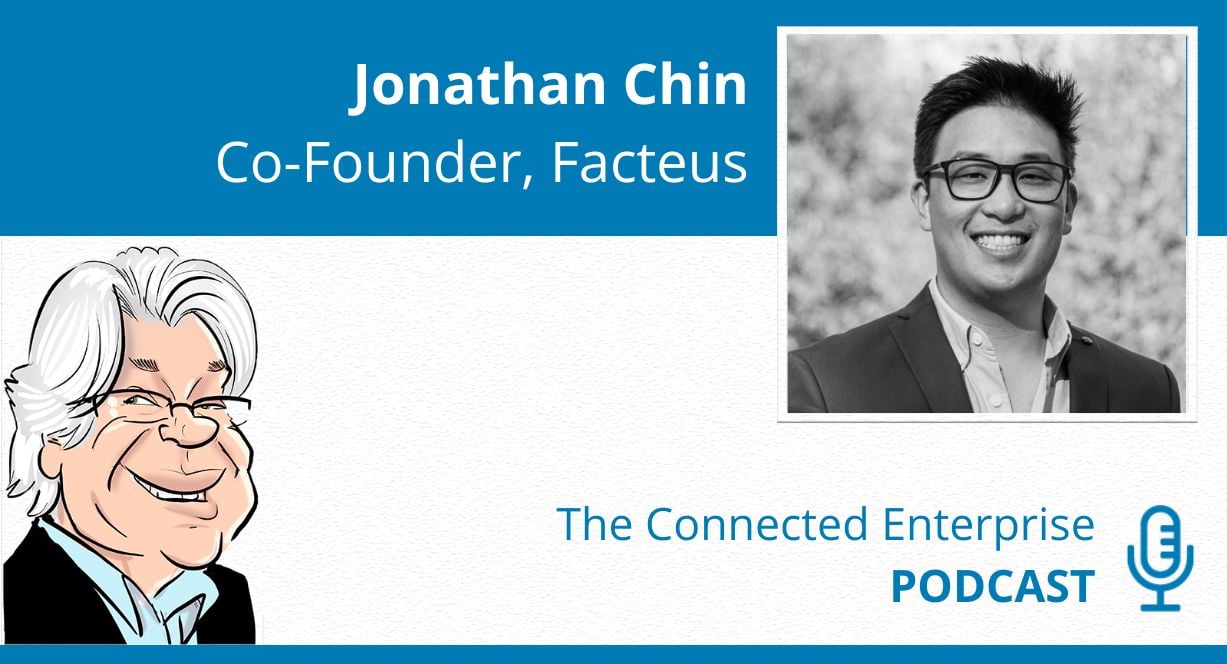 Jonathan Chin is an experienced product, strategy, and growth executive with a demonstrated history of working in FinTech, big data, artificial intelligence, machine learning, and data science. He's the co-founder of Facteus, the largest alternative data provider worldwide.
Facteus is part of an emerging market called data as a service (DaaS), meaning it sells data to its customers.
"We're unlocking data," Jonathan explains. "We're mining valuable nuggets that are hard to get to. And once we've unearthed that data, it offers tremendous value to our customers."
Jonathan joined Carl Lewis, host of The Connected Enterprise podcast, to chat about DaaS and how Facteus's customers use data.
How DaaS Works
Facteus has a panel of consumer credit and debit card holders, and the company excavates data to create insight products, data products, and reports.
Its specialty? How people spend money.
Facteus examines data from various sources, from grocery store loyalty cards to newer payment forms like Venmo, PayPal, and 'buy now, pay later.'
"How people spend money is changing as we speak," Jonathan says. "More data from that ecosystem will be valuable."
And when Facteus sells data, it helps its customers understand how to use it to grow revenue, attract customers, and understand competitors.
The Value of Data
Many small businesses have failed because they didn't have access to market data. For example, if someone opening a restaurant wanted to find somewhere people frequently dine out, they had to get that information from an expensive consultant or a survey with questionable results.
Now, with companies like Facteus, entrepreneurs can have critical data at their fingertips.
Facteus has many active stock trader customers who use data to recognize trends about companies.
"Understanding how Target or Walmart is doing from a sales perspective year over year is something they pay for," Jonathan says.
Too Personal?
You needn't worry about Facteus revealing your personal information—the company uses synthetic data technology to ensure people's private information stays private.
"When we gather data from partners like banks, processors, and credit card companies, the data is obfuscated," Jonathan explains. "We inject mathematical noise so transactions won't look like what people see on their bank statements."
Dollar amounts, dates, and times are altered, so data can't be tied to a person or reverse engineered.
"In the DaaS industry, data privacy and data stewardship have to catch up to the technology," Jonathan continues. "We took the initiative to do that when we started Facteus."

Listen to the Podcast
An astonishing amount of data is created every day, and Jonathan cites a statistic that says most data we see was created in the last two years.
"There's always going to be new data as everything becomes more digital and trackable," Jonathan concludes.
For more insights from Jonathan Chin, listen to Vision33's The Connected Enterprise podcast. In each episode, host Carl Lewis interviews bright minds and industry thought leaders about enterprise technology and what's coming next.