The SAP PRESS imprint is a publisher of books and eBooks that help accelerate a business' journey towards intelligent solutions. Learn more.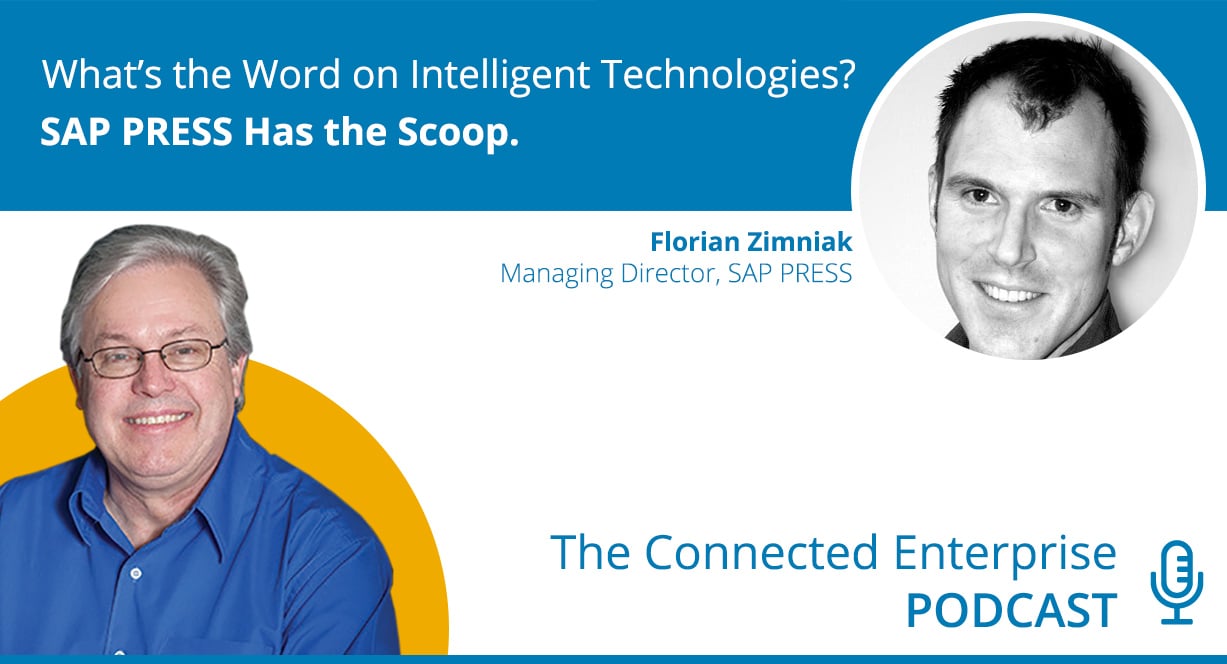 Florian Zimniak, Managing Director of SAP PRESS in Boston, recently spoke with Vision33's Connected Enterprise podcast host Carl Lewis to discuss the publisher's books and eBook products focused on enterprise technology. Here are a few highlights from their conversation.
About SAP PRESS
Rheinwerk Publishing under the SAP PRESS imprint is a publisher of books and eBooks that help accelerate a business' journey towards SAP enterprise resource planning (ERP) solutions at the beginner and expert levels.
SAP PRESS takes content from concept to the physical dimensions or file sizes. New book ideas and drafts are drawn up, evaluated, and either improved or dismissed; only the most convincing material makes its way into their library. And while there is a certain prestige with content presented in a physical, hardbound medium, we live in the digital age that is why SAP PRESS also publishes extensively in the eBook format.
Pivoting in the Pandemic
Like many other businesses, the pandemic has had a significant impact on SAP PRESS this year. Its in-person conferences, for example, were an opportunity to gather new ideas and materials for future books to educate businesses on enterprise technology benefits.
"Conferences are a significant author-acquisition tool and a way to present our program to our audience. Customers can browse at these events, and we [have] see[n] good traffic at our booth," says Zimniak.
While there were no in-person conferences held this year, technology has provided SAP PRESS with the agility to pivot and distribute its educational materials digitally. Indeed, the eBook format growth has proven indispensable with SAP PRESS, noting an acceleration in eBook adoption this year, accounting for up to seventy percent of their annual sales.
Understanding Intelligent Technologies
Collaborating with SAP for almost two decades, Zimniak understands that sophisticated technologies follow an adoption curve. For the latest technologies, such as machine learning and the internet of things (IoT), businesses are at an early stage of making cases for adoption.
One of the key challenges facing businesses that would benefit from adopting enterprise technology, or as SAP calls them, "intelligent technologies," is better understanding the benefit of their adoption.
"We must understand better what we're supposed to do with these technologies. It's not enough to hear, 'This is the intelligent enterprise. This is the future. Don't miss out,'" explains Zimniak.
SAP PRESS's use of technology to course correct during the pandemic presents a real use case of enterprise technology adoption's tangible benefits, but there's always more to learn.
That's where enterprise technology resources become instrumental for the businesses that are beginning their digital transformation. Vision33 has long since been a proponent of learning and offers its readership many options to expand their knowledge of enterprise technology and its benefits. The Vision33 small and midsized enterprise blog and the Vision33 Connected Enterprise podcast, to name a few.
For more insightful conversations on enterprise technology and its benefits for growing businesses, listen to the Vision33 Connected Enterprise podcast today.