Craig Stockmal chats about B2B eCommerce, customer engagement through a 360-degree customer view, and how businesses can integrate their entire tech stack.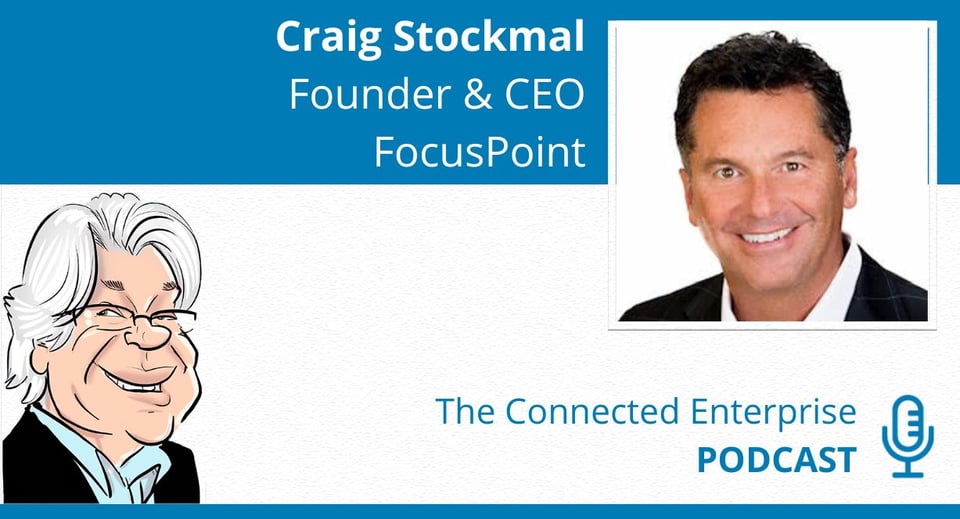 Craig Stockmal spent his career helping Fortune 500 companies with business-to-business (B2B) eCommerce. He used his experience to start his own eCommerce company, FocusPoint, in 2014.
Craig realized it wasn't easy to integrate B2B eCommerce with SAP Business One, a robust enterprise resource planning (ERP) solution. It was a lengthy process that sometimes cost more than the ERP solution. However, a seamless connection between systems is critical to save time and eliminate mistakes, so FocusPoint's goal was to create the best SAP Business One eCommerce solution at a price that doesn't crush the bottom line. As the company's website says, it's their obsession.
Today, FocusPoint's experts engage with over 300 SAP Business One customers on their eCommerce journeys, extending their ERP functionality to provide a 360-degree customer experience.
Craig joined Carl Lewis, host of The Connected Enterprise podcast, to chat about B2B eCommerce, customer engagement, and how businesses can integrate their entire tech stack.
What Is B2B ECommerce?
When you buy something from Amazon, it's known as business-to-consumer (B2C) eCommerce. It's relatively straightforward—you find a product, check out, pay, and receive your package.
B2B eCommerce is more complex. It involves self-service portals where customers manage documents, invoices, quotes, deliveries, credits, memos, and service requests. "For example, business partners get targeted catalogs of assigned pricing," Craig explains. "There are workflows that go along with those business relationships."
The pandemic accelerated B2B eCommerce's growth. Businesses that relied on in-person customer interactions shifted to automation and self-service because of the risk of face-to-face interaction. "B2B has become the organizations' go-to customer service plan," Craig says.
FocusPoint's B2B model helps businesses fully engage with their customers—and engagement is more than products. Companies must make it easy for customers to do business with them, because other options are only a click away. "It's critical to give them the necessary tools to engage with you and get the information they want," Craig says.
The Advantages of an iPaaS
One of FocusPoint's strategic goals is to expand its integration options. The company recently integrated SAP Business One using The Saltbox Platform, Vision33's exclusive integration platform as a service (iPaaS) solution.
"The biggest advantage to clients with FocusPoint leveraging Saltbox is that we can replicate our integration workflows faster, providing shorter implementation times," Craig says. "Saltbox plays a key role in data transformation and easy integrations with other systems customers use."
Those easy integrations empower businesses to connect their entire tech stack with Saltbox. Rather than creating separate point-to-point connections that need constant maintenance, Saltbox integrates virtually any business application on one platform. Craig notes, "Saltbox is a wonderful tool to expand our breadth and reach and offer more value."
Listen to the Podcast
For more insights from Craig Stockmal, listen to Vision33's The Connected Enterprise podcast. In each episode, host Carl Lewis interviews bright minds and industry thought leaders about enterprise technology and what's coming next.