On The Connected Enterprise podcast, GoBeyondSEO's Brian Saemann discusses lead generation, search engine optimization (SEO), and why content is king.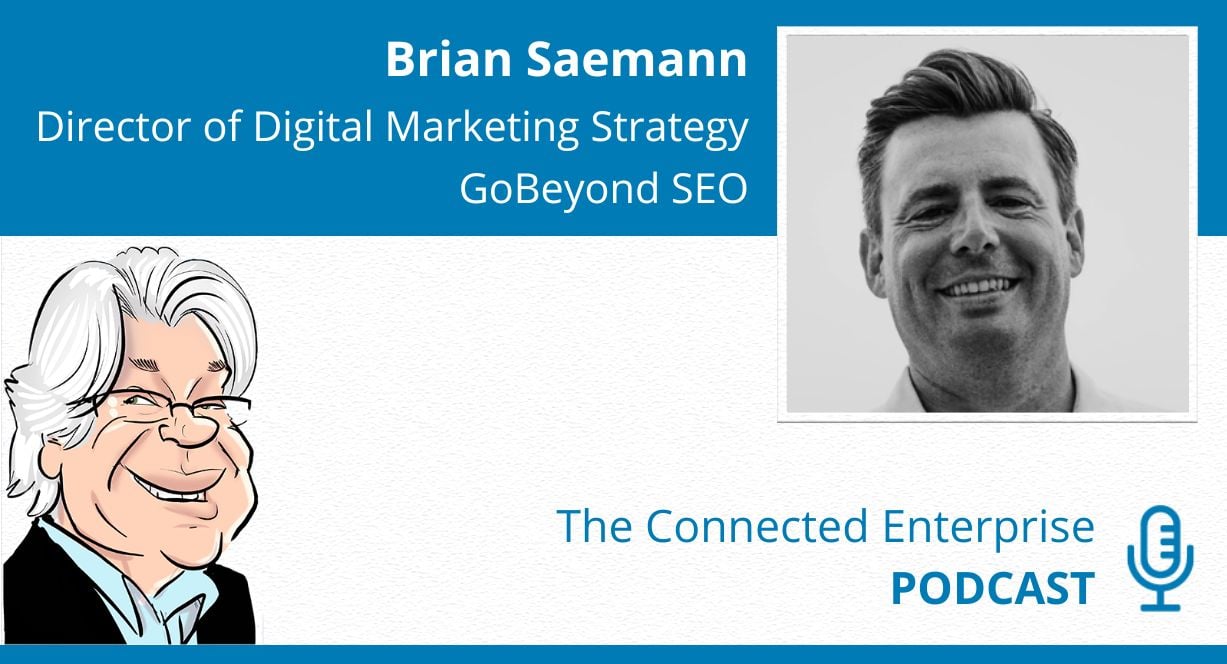 Search engine optimization (SEO) was a new discipline when Brian Saemann built websites in the early 2000s. There weren't courses to learn the specialized skill, so Brian taught himself and started getting websites ranked.
Recognizing the growing need for SEO, Brian and his wife opened an agency in 2010. Today, GoBeyond SEO offers targeted lead generation services, including SEO and advertising, to help businesses attract new clients.
Brian joined Carl Lewis, host of The Connected Enterprise podcast, to chat about how SEO has evolved, why content is king, and how to get started with a digital strategy.
The Sum Is Greater Than the Parts
SEO reached new heights when the pandemic forced global lockdowns. Businesses that had been generating leads through in-person networking had to find new ways to attract prospects. Many expected instant gratification—but you can't rise to the top of Google overnight. Brian got those clients into Google Ads, which are quick and easy to create.
"Google Ads are a good way to build a digital funnel and start moving traffic into it pretty fast," Brian explains. "And if you're using SEO and Google Ads, they inform each other well. You can see what's happening on the Google Ads side and find new keywords to go after. The sum is greater than the two parts."
Content With a Kick
When Brian started his company, SEO involved optimizing websites by putting things in the right places to gain traction. Now, it's harder for a website to rise to the top of the rankings. The secret? Content.
"If you're not producing content consistently, Google won't to reward you," Brian says. And because Google can easily see how often you produce content and how valuable it is, your content should have a little kick. Avoid corporate speak or overly neutral language. "The entire world—social media, television, the internet—is battling for our attention," Brian notes. "To stand out, your content needs personality."
Listen Up
Brian's advice for getting started with content creation is to listen to your customers. What questions are they asking? What challenges do they have? "If one is asking that question/having that challenge, dozens are," Brian says. "And they're going to the internet to find the solution."
You can spin your customers' feedback—and other content—into multiple pieces of content. For example, each episode of The Connected Enterprise podcast includes a video, transcript, and blog, like the one you're reading.
Technology Can Help
Content management systems like HubSpot make it easy to create content and optimize it for SEO. You can also get into your website to adjust title tags and meta descriptions—things Google looks for when ranking sites.
There are even up-and-coming artificial intelligence (AI) tools that help you find topics to write about or do the writing for you. "Some tools are better than others, but they're here to stay," Brian says. "I don't think AI will take over, but I think marketers who don't use AI will be behind the curve."
Listen to the Podcast
For more insights from Brian Saemann, including how businesses without a marketing staff can build a digital presence, listen to Vision33's The Connected Enterprise podcast. In each episode, host Carl Lewis interviews bright minds and industry thought leaders about enterprise technology and what's coming next.